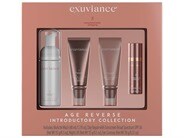 Reviews For
Exuviance Age Reverse Introductory Collection
14 Results
Love this brand
I have tried many different anti-aging product lines. Exuviance delivers. I'm in my mid-50s now and am always on the look out for anti-aging creams that address firming skin concerns and lines. This kit was a great sampler. Will be returning to buy more. LovelySkin Customer
Verified Purchase
Amazing
I felt a difference in my skins firmness and clarity! LovelySkin Customer
Verified Purchase
AMAZING Results
These products are more than advertised. Within one week, I experienced a noticeable difference in my skin. Lines under my eyes disappeared and the skin appeared more youthful. Concealer makeup was easier to apply and looked better, too. My whole face had that "healthier glow" of younger skin. And even better, this introductory "kit" is perfect for travel. I have switched to these products because they really do "work." LovelySkin Customer
Verified Purchase
Great trial sizes
This was perfect to take on vacation and to give the age reverse line a try. Really like the eye contour, the day and the night lift. Not sure about cleanser, but it was nice to have a very light product in hot, humid weather. Out of the set the night lift is my favorite. It feels like my skin firms up just putting it on! LovelySkin Customer
Verified Purchase
A winner
This product does what it claims. My face is brighter and I love how I feel. LovelySkin Customer
Verified Purchase
Must have my Exuviance Age Reverse Introductory Collection
I first received this skin care line as a Christmas gift from my daughter. I love it!! It's become my favorite and a must have! It works, makes my skin so beautiful, truly good for " age reversal." The Introductory Collection is a cost-effective way to give these products a try and when you can't afford a full-size set. They are perfect as a travel set. Shelley
Verified Purchase
great
I will buy this again! My skin looks clear and healthy! LovelySkin Customer
Verified Purchase
Bought this fro an upcoming trip now I plan to purchase it again!
Had to laugh when I read it's for people up to age 50. I'm older than that, and yet it's made a HUGE difference in my skin, which is pretty good to start with as I've long included quality skin care in my routine. The kit made it affordable for me to try a full regime, and I'll likely purchase full-size versions in the future. Even better, the products offer SPF protection, which is rare in similar products. LovelySkin Customer
Verified Purchase
I'm in love!!
I really love this line of beautification! My skin feels amazing and I am so glad I got to experience this wonderful line of skin care! I am grateful they had a sample kit so I could try each on and now order the full size after each pay check. LovelySkin Customer
Verified Purchase
Small steps
I see a slight improvement in my skin's texture after two weeks of faithful use. LovelySkin Customer
Verified Purchase
Light weight and easy to use!
I have tried many face lotion and creams that has left me feeling like I have just put a layer of icing on a cake on my face. But trying Exuviance Age Reverse has been a hole new experience for me. When you apply it you can't even tell you have anything on your face and the difference you see when you look in the mirror really makes you smile. LovelySkin Customer
Verified Purchase
Really Works
First time using this product and I've already ordered the full size. I'm a firm believer in using good skin products on my face. What I've noticed the most is that my face kind of glows which isn't easy at age 56. Face feels soft yet firm. Sister in law noticed the difference right away. This is a great way to try the products before purchasing full size. LovelySkin Customer
Verified Purchase
Quick Results
I noticed a difference within a few days. The area around my eyes show visible improvements to my dark circles and fine lines. The overall appearance of my skin tone has reduced redness and allows for a smooth, dewy glow improving the look of my foundation. LovelySkin Customer
Verified Purchase
EXUVIANCE AGE REVERSE INTRODUCTORY COLLECTION
This is my second purchase of this product. I like the introductory collection sizes which I use when I travel. It keeps my skin supple and bright and at 82 years old that is what I am looking for. Just follow the directions and you will be pleased with the results. LovelySkin Customer
Verified Purchase