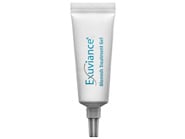 Reviews For
Exuviance Blemish Treatment Gel
7 Results
AMAZING!!!!!
This product is absolutely incredible! I suffered with acne for the past 10 years, nothing worked or helped me. I started using this product nearly 6 months ago, and my skin has been virtually clear and break out free since. The main thing that I found made all the difference was that I used this product on my entire face not just the breakout areas it reduced inflammation, and eventually, my skin cleared up. I have tried other salicylic acid products, and none have been even close to this one. LovelySkin Customer
Verified Purchase
Blemish treatment
Works well! Apply to blemish at night and next morning it's almost gone. LovelySkin Customer
Verified Purchase
fairly good salicylic acne gel
I'm in my late 40s and (still) battling moderate hormonal acne. This acne gel works decently as a spot treatment (I have not used it all-over). It is fairly drying, however, but I prefer it to benzoyl peroxide-based spot treatments, (which are, for me, even more drying and bleach my towels no matter how careful I am). I'm not sure there exists a truly excellent spot treatment for acne. This one seems as decent as others. LovelySkin Customer
Verified Purchase
Quick healing
This product is incredible! I had trouble with small blemishes around my mouth and around my hairline. The gel didn't irritate or dry my skin but healed the blemishes faster than anything I have ever tried. LovelySkin Customer
Verified Purchase
Exuviance Blemish Control Gel
I have used this product regularly for many years...even my husband borrows some from time to time. This is the BEST product of its kind and I've tried a few! I can recommend Blemish Control Gel wholeheartedly! LovelySkin Customer
Verified Purchase
Love it
This is a great product. I used it on a blemish an it was almost completely gone the next morning. LovelySkin Customer
Verified Purchase
Overnight Success!
Started out as a product for our niece. She's 22 and has always had issues with breakouts. It's worked great for her without over drying her skin or sensitivity issues. Then my husband had a spot start up the day before he was going out of town with work. He dabbed some on that night and could tell a huge difference the next morning. He used it once more before leaving and the pimple never even had a chance and husband was impressed enough that he now carries a tube in his travel case. LovelySkin Customer
Verified Purchase