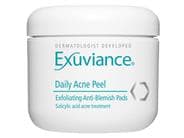 Reviews For
Exuviance Daily Acne Peel Pads
6 Results
Too harsh
These pads made my skin very dry and didn't seem to help clear up acne. I wouldn't recommend. BEST ACNE SOLUTION
I'm a 24 year old female with regular to oily skin. My skin usually becomes oily and more acne prone throughout the day especially during that time of the month. I've suffered from all types of acne mostly on my cheeks and around my mouth but these pads along with the clarifying cleanser help settle my acne. So happy I found these on LovelySkin! LovelySkin Customer
Verified Purchase
Skin Saver
Exuviance Daily Acne Peel is a true skin saver during a heavy breakout time. Additionally the pads used daily are preventing reoccurrence of the all over break outs! Will not be without!! LovelySkin Customer
Verified Purchase
Don't Know What Happened
The first time I tried these pads they worked AMAZINGLY. I've always had really bad acne but these pads actually stopped my breakouts and kept my skin clear. So I bought them a second time and got two, sadly now I've been breaking out like normally again. My skin is less oily than usual but it's been a month since I've been using these pads again and I'm back to regular breakouts. LovelySkin Customer
Verified Purchase
Excellent for hormonal acne
At 43, I have struggled to find something that is good for my skin and works on acne. The Clear and Smooth pads are it! I will never go without it. It cleared my acne and now my skin glows. With regular use, my acne has been kept at bay! Thanks, Exuviance!! LovelySkin Customer
Verified Purchase
Best face pads EVER!!
I have suffered from acne for the majority of my life and FINALLY I found these pads that work! Its rare that i could find something that i could continue to use and it would work just as it did when i used it for the first time. Love this product! LovelySkin Customer
Verified Purchase