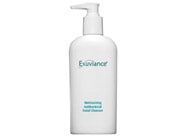 Reviews For
Exuviance Moisturizing Antibacterial Facial Cleanser
Exuviance Moisturizing Antibacterial Cleanser
This has been my favorite face wash! So sad to see it's been discontinued, but NeoStrata has a similar one I also love! Overall I highly recommend this website. It's been the best place to find awesome face products at a great price! The free samples are always fun to try, too! LovelySkin Customer
Verified Purchase
Love it
This toner is great. I have tried the yellow one, but it made me break out even more. This one is perfect for my sensitive, combination skin. LovelySkin Customer
Verified Purchase
Face cleared up
I bought this a few months ago and before it, I was breaking out and now my face is much clearer, still have acne but its improved my face a lot, much clearer, brighter. Im thinking of also purchasing a exfoliator LovelySkin Customer
Verified Purchase
Clears acne
Have used this for years. Purchased for teenaged son. This really works to clear skin without drying. I have used it to clear occasional breakouts and it is just as safe for my dry skin too. LovelySkin.com has the best price I have found on the Internet. Cleared up my Acne!
This is the first facewash that finally made a huge difference in my skin! It cleared up my acne and now I have a great complexion. I will order it again and again. LovelySkin Customer
Verified Purchase
Doesnt Strip!
I have been using this cleanser for years after it was recommended to me by my dermatologist. I tend to have dry skin yet I love cleaners that soap up which isnt usually recommended for this type of skin, yet this cleanser doesnt strip my skin or make it feel dried out. LovelySkin Customer
Verified Purchase
Is AMAZING!
I have been very pleased with the results that not only this product, but of the entire line of skin care from them! LovelySkin Customer
Verified Purchase
Face wash
Leaves skin feeling clean without drying, very nice LovelySkin Customer
Verified Purchase
Great Cleanser
I just finished my first bottle of this antibacterial cleanser, and I love it!! It helped me clear up my moderate acne. It can be a bit drying but as previously said with a good oil free moisturizing cream after washing its all good. effective!
very good cleanser for dry, combination and sensitive skin. helped tame my breakouts. one bottle also lasts long! LovelySkin Customer
Verified Purchase
Works wonderfully
I have tried this product after trying what seems like everything out there from over the counter, clean and clear, aveno, clinique, dove, and even obagi clenziderm system. My skin is very sensitive and dry and this causes no irritation what so ever. This cleanser cleared my skin up instantly, no smell and leaves my sign feeling clean and tight. It can be drying however it is just trying to peel off dead skin, but if you do use you need to use a good moisturizer after you wash, other than that its great. I have went through 2 bottles already and expect to stay with this. LovelySkin Customer
Verified Purchase