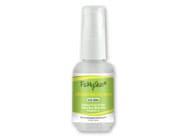 Reviews For
FixMySkin Exfoliating Gel - Mild
5 Results
Awesome
I tried the sample of this product and it seriously improved my skin It is worth the money, I am saving my $ to buy this awesome product:) Great Product!
I received FixMySkin Gel Cleanser as a sample (in combination with FixMySkin Exfoliating Gel Cleanser - Sample) and was pretty impressed with how effective it was over a 2 week period. I appreciate that both products are chemical so it does not require daily use. My skin type is oily with large pores which are acne prone so this product appeared ideal and I intend to purchase both products. Helped Texture of my skin!
I used the mild from a sample. I'm 41 with oily skin (small acne) during the spring/summer and allergic to paraben. During the winter, my skin is more combination skin or starting to have some dry spots. When I use this product 2x daily, helped significantly with the look of my skin. I have less bumps from acne, helped slowly with acne scars, and the texture is smoother/healthier. LovelySkin Customer
Verified Purchase
Christopher in Columbia
I purchased all four of the FixMySkin products for my partner (Gel Cleanser, Toner Mist, Exfoliating Gel, and Moisturizer). He wanted a skin care regimen that was uncomplicated and easy to keep up with. Although I'm a sworn Obagi Nu-Derm user, I have to say I've been pleased with the results I've seen. My partner's skin tone is more even, pore size has been reduced, and his general overall complexion is improved. This is a great product for the price, and if you're looking for a quick and easy system to improve the appearance of your skin without a lot of fuss, this may be the regimen for you. FYI – My partner is male, so I can say from experience that this product is great for a man's skin. Christopher
Verified Purchase
I'm too old for zits!
I'm 54 and tired of the acne I continuously battle. This serum helps me control it, and gives my skin a cleaner, brighter look. Worth the $$. LovelySkin Customer
Verified Purchase