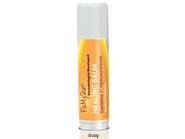 Reviews For
FixMySkin Healing Body Balm Vanilla with 1% Hydrocortisone
30 Results
Great all purpose balm
Cleared up my dry skin issues right away. Great for the winter. LovelySkin Customer
Verified Purchase
Too bad its discontinued
I had a random dry patch on one of my knees. I had been moisturizing it with lotion for about a month. Then I received a sample of this, applied it twice a day and the patch of dryness was completely gone within 2-3 days. Works Fast
I received the balm as a sample and used it for a reoccurring dry scaly skin patch behind my ear. It clears it up in two days and I only put it on once or twice a day. Works great and fast. Was so impressed, bought the full size product. LovelySkin Customer
Verified Purchase
FIXMYSKIN
I will forever keep at least two to 3 of these at my home. I keep one next to my bed, one at my office and one in my purse. This is BY FAR, the best moisturizer for lips. And, at this price it makes it even that much more amazing. I went through the phase of using EOS, because of the packaging, I recently bought one and the $4 I felt robbed. It did not moisten my lips at all. The opposite, that many of those products do. They make your lips dryer so you have to apply more, and then you buy more....... I hope this never ever gets discontinued. LovelySkin Customer
Verified Purchase
Love this balm!
I have the itchiest skin on the planet. Eczema, allergies, you name it I have to deal with it. The FixMySkin healing balm (I love the vanilla) is absolutely incredible. The tube makes application very easy and mess-free. I have tried many other products with 1% hydrocortisone that DO NOT perform like this balm does. I will not be caught without an ample supply of this healing balm. I keep one on my nightstand, one in my purse and another in the bathroom. This is a winner! LovelySkin Customer
Verified Purchase
Lifesaver for Eczema
Ive had eczema since I was little, and as Ive gotten older its gotten better. Unfortunately, its recently become much worse with the winter weather. My arms had white rough patches and my legs had itchy red bumps on them. Ive been using the Healing Body Balm 2-3 times daily since Ive gotten it, and I noticed a difference within a few days! The bumps on my legs have all but disappeared, and I couldnt be happier! The rough white patches have gotten smoother and the white discoloration has diminished. I would definitely recommend this to anyone who suffers with eczema! Amazing
I have tried many lip balms but this is the best ever! No more chapped lips for me!! Its intended for more than just lips, but thats what I bought it for after receiving a sample. It is truly amazing. LovelySkin Customer
Verified Purchase
Relieved & Remedied my eczema
Its been an adventure trying to find something to relieve and remove eczema from my hands... especially when you wash them so much. This healing balm has worked perfectly! And the Vanilla smells wonderful! LovelySkin Customer
Verified Purchase
Fixmyskin healing balm vanilla
Really wonderful product. If you usually use a lip balm, this is by far the best one you will ever try. Thank you. LovelySkin Customer
Verified Purchase
Fix My Skin balm
I just purchased this product for my one yr old daughter who has two small areas of eczema. I received this product as a free sample while buying something for myself and I tried it on her dry skin. It works wonders! The two areas I used the product on cleared up within days and her skin looks beautiful. I have now ordered the large-sized product so that we can use it freely. Its awesome!!! Shevgrn
Verified Purchase
AMAZING!
I cannot say enough about this product. It is AMAZING!!!! I have very problematic skin with acne and roceaca bumps. Ive spent thousands of dollars to help with this. My dermatologist has prescribed numerous topicals to help. No kidding, after using this free trial, I couldnt believe how it helped so much. I ordered full size and have stopped using the medical topicals. It is so gentle, healing and easy to use and carry with you. I would give this 5+ stars hands down! LovelySkin Customer
Verified Purchase
Silky and Effective
Glides on smooth and relieves itchy spots in a flash. Perfect for on the go in your purse, car or backpack. I have one itchy patch near my armpit, and I apply this for several days and the patch goes away for several weeks. My daughters use this on their elbows and itchy spots as well. amazing!
This balm is the only product that was able to clear up my eczema! I was prescribed two different steroid creams but the FixMySkin balm was the only thing that actually worked! I also really like the applicator - very easy to apply with no mess and a nice, light vanilla scent. LovelySkin Customer
Verified Purchase
Great Product!!!
I have very dry itchy back but I don't like putting lotion or oil on my back because I don't like feeling of greasiness. I got this body balm to see if this will help my dry back without wet lotion feel. Wow, it dose work! It glides on my back smoothly and no greasy feeling. It's been really helping to heal itchy back. This body balm is my "must have" item now! LovelySkin Customer
Verified Purchase
Really great product!!
I originally used just the lip balm, but was so impressed with it that I began using it on my cuticles and "winter hands" as well, and it ran out very quickly. I decided to order the healing body balm ... and that is just what it does .... heal! I often mix it with some hand lotion and that works even better and helps the product to absorb quickly. I have tried other products and had no favorite before this. LovelySkin Customer
Verified Purchase
Wonderful
My legs are always itchy in the winter but after using this balm, not any more! LovelySkin Customer
Verified Purchase
Excellent Product
Easy to use, convenient to carry with you for reapplication. Works well on dry chapped skin, anywhere! Amazing stuff!!
I have full lips & like to keep them moisturized, but it's very hard to find a product that actually lasts, protects, & feels & smells great on!! I use on my face & dry patches on my hands too!!! I love this stuff- my 16 year old even asked for the healing body balm in her stocking this Christmas!! A MUST have!! LovelySkin Customer
Verified Purchase
Healing Balm
Product seems to work as stated. Helped with itchy dry skin on heels. LovelySkin Customer
Verified Purchase
great
love this product it is great LovelySkin Customer
Verified Purchase
good product
works well on my dry knees and the scent is really nice LovelySkin Customer
Verified Purchase
Good Product!
My daughter has very bad eczema . It gets really bad in the summer when she is swimming a lot and putting lotion on her is really difficult. She hates it. This product has made putting medicine on her spots much easier. She will even do it herself! LovelySkin Customer
Verified Purchase
Nice product
I have tried regular hydrocortisone before on a spot of eczema on my leg, but I was not applying it regularly enough to properly heal the spot. The balm applicator is very easy to use and I have seen improvement. I enjoy putting it on and I like the scent. LovelySkin Customer
Verified Purchase
Very Happy
I was a little skeptical about ordering the balm . I have a few spots that get dry and very itchy. This stops the itch right away and then they dry up. I would recommend this product to anyone that has itchy problems. I like the tube, it goes everywhere with me. LovelySkin Customer
Verified Purchase
Great Lip Balm
Air is very dry in my workplace, worked great to moistureize my lips & curticles. LDH in Arlington,NE LovelySkin Customer
Verified Purchase