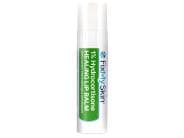 Reviews For
FixMySkin 1% Hydrocortisone Healing Lip Balm – Unflavored
$11.00
157 Results
Magical balm
This product helped my skin like no other. And it has multiple uses! I recommended it to my family members as well. I wish they would also bring back the healing balm without the hydrocortisone. LovelySkin Customer
Verified Purchase
FixMySkin
I loved the product and it helped to heal some chapped and rough areas. Will purchase again. LovelySkin Customer
Verified Purchase
FixMySkin Healing balm
I had never used this healing balm before but it was recommended to me. Had cracks lips from sun/water exposure. Used it for a week or so & I could tell they were better. Smoother, not irritated. Give it a try. I'm sure it will help during winter months also. I was glad I tried it. Keep the tube in my bag & use through the day & before I go to bed also. love it!
Great for my dry lips and no smell which is an extra plus. I use it twice a day and it works!! Amazing
This is a great product to have around for an all around use. LovelySkin Customer
Verified Purchase
FixMySkin 1% Hydrocortisone Healing Lip Balm
This lip balm is the best I have ever used and the only one I use now. My lips have not been chapped and they stay moist all day long. I only use it in the morning and at night for a full day and night of soft lips. lip wonder!
I buy this for my son who has many allergies and a bit of eczema. He always shows dryness and cuts in his lips, but this helps immensely. I use it for my dry, chapped winter lips too and it works wonders. Thank you Daniel and LovelySkin. SpinMom
Verified Purchase
lip balm
I will continue to use this lip balm, no complaints, but hasn't helped my lips the way I hoped. DAN0117
Verified Purchase
Great Lip Balm
This is a repeat purchase for me. This lip balm really keeps my sensitive lips soft and free of irritation. mbrkelley
Verified Purchase LovelySkin Customer
Verified Purchase
Great product
Great product, just beware of the medicine-like flavor if you happen to lick your lips etc. The other flavored options avoid this issue, but the unflavored do not have smells that I am more sensitive to. Fenchie88
Verified Purchase
Great
Great product and doesn't melt so can leave in your car or beach bag LovelySkin Customer
Verified Purchase
Nice!
I didn't want a flavored balm, but I did want a balm that kept my lips moisturized and soft, and this works very well. Milldar
Verified Purchase
HUGE fan!
I love this stuff. I have really dry lips from time to time and this product really helps a lot! I recommend it to everyone. samanthabrand07
Verified Purchase
This fixed my lip line rash
I use this regularly. Hadn't been able to get rid of the inflammation around my lip line. FixMySkin lip balm got rid of it almost immediately. I use regularly and unlike other lip balms, it stays on an keeps your lips moist. I read another review that said it thinned her lips. I haven't experienced this. My lips look and feel great! LovelySkin Customer
Verified Purchase
Excellent product
I have been suffering from eczema since I was little. I recently started having a flare up on my face that wouldn't seem to go away. I received this product as a sample with another product I purchased from LovelySkin. I put this on the area that was irritated and within 15 minutes it was cleared up. This product is pure magic and I'm so excited that I came across this. Bought the full version and couldn't be happier. Moisturizing Lip Balm
I received FixMySkin lip balm as a sample in one of my orders last winter. My lips get really dry in the winter time and I was thrilled at how well it worked. It's the first winter that I didn't have dry lips. I had tried everything from Burt's Bees to Avon lip gel and good old vaseline. Nothing worked but FixMySkin did! So, when the sample ran out I ordered it and will continue to use it. Also, side note, I use a lip stain from Lovely skin that is a bit drying but using this on top of the lip stain keeps my lips moist and keeps the color on my lips. LovelySkin Customer
Verified Purchase
Good lip balm but nothing special
Did not feel different from other balms next to registers at any store LovelyGuy
Verified Purchase
Superstar lip balm
I have chronically dry chapped lips all year long. My dermatologist recommended this lip balm because of the ingredients (hydrocortisone) - I bought several and my lips are finally not flaky with dry skin. I always wear lipstick and it never looks good with dry loose skin on my lips. After such a long search and money wasted; I am thankful I found Fixmyskin lip balm! Thanks for offering this on your wonderful website! It's definitely a keeper! LovelySkin Customer
Verified Purchase
Does the trick
First time using this lip balm and in 2-3 days it banished the bit of eczema I occasionally get around my lips. Having this in my pocket or purse is better than carrying around one of my Rx products for atopic dermatitis. I would order this again. LovelySkin Customer
Verified Purchase
Worth It
Only fix to my son's badly cracked and dry lips from medication. Everyone in our family uses it now. Dry Lips?
This product is nice to use when you have very dry lips! LovelySkin Customer
Verified Purchase
My lips love this!
I first tried FixMySkin lip balm as part of a free sample from Lovely Skin. As a self proclaimed lipgloss addict, I'm always looking to try new lip products. After just a week of use, the dryness/flakiness on my lips disappeared. I highly recommend this product. Eliminates chapped or dry lips. Mullavey
Verified Purchase
BEST EVER!!
I absolutely love this product. My lips have been so cracked and soar and nothing has helped. This product is amazing. I do have to keep using it but it is worth it. BEST LIP BALM
Fix My Skin Healing Lip Balm saved my lips. I tried everything on the market, and nothing worked. The best product ever and well worth the cost. rpbearden67
Verified Purchase