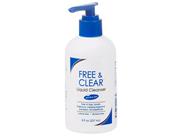 Write a Review - Receive 50 Rewards Points!
Tell us your thoughts about Free & Clear Liquid Cleanser so we can help you find the right products. With your review, you'll also receive 50 Rewards Points. Please note that it may take up to 72 hours for a review to appear on site. All reviews are subject to moderator approval.
Write a Review
20 Results
Fantastic
Just like the name, Free & Clear is exactly that. Free of parabens, fragrance, etc. Great for people with sensitive skin. Highly recommend.
Best body wash
I have dry skin that gets very dry in winter more so than any other time of the year. It is uncomfortable & I scratch some areas so making the problem worse. I love this wash as it leaves my skin feeling hydrated & not like its shrinking & uncomfortable. Helps with the itching & reddened appearance. I add it to the bath water also & appreciate how helpful it is for my problem dry skin.
I would give this more stars if I could!
This is a MUST have product for me! I've used it for years and wouldn't consider washing my face with anything else. My skin is sensitive and easily irritated and this leaves my skin feeling completely clean and balanced. There is no lingering feeling of residue after cleaning with this. The price is great as well as I don't see the point of spending a lot of money on a product that is just quickly washed off.
Clear Liquid Cleanser
I have very sensitive skin. This product has saved me. I would recommend it to anyone. With it being free of dyes, lanolin, fragrance, masking fragrance, parabens, formaldehyde, sulfate-free and betaine-free it's just what I needed.
love it!
for the first time since i can remember, i have not felt itchy for awhile after taking a shower! Even what i was previously using, the La-roche posay cleansing body cream that is three times the price and half the ounces, fails in comparison to how great this F&R cleanser is.. it lathers better, no weird smell, leaves you feeling clean without a residue feel, and price is outstanding to me.. Only been three days and i am already back to order the large bottle refill version so that i never run out!! i use the lather sea wool sponge with it and my skin already does feel better with no blotchy redness showing when i get out of shower now.. (i have not use this F&R cleanser on my face though, I love the coolness of the la roche posay toleriane dermo cleanser instead). So thankful to the reviewers (and LovelySkin for carrying it) without them i would not of tried this great product!!
Perfect cleanser
My dermatogist recommended this product to me because its an oil and fragrance free gentle cleanser. Im very pleased. Its cleanses my face well and doesnt bother it. It even removes make up. I love it! I also love the price! What a great product.
Free and clear!!! Just what i have been looking for
I recently purchased free and clear liquid cleanser to use as a body wash. I was looking for something with no fragrance to help my dry skin and it has made a difference!!!! I have come to learn that when packaging says "safe for sensitive skin". Its not always true u have to read the label cause u may still find there is fragrance or other ingredients that are not good for your skin. Free and clear is totally fragance free and no other harsh ingredients that will bother your skin. I would recommend this product if you have skin sensitivities like me. I will be buying the larger size to refill my pump bottle on my next purchase.
Great Everyday Cleaner
I have used this cleaner for about a month. It is non irritating and great for everyday use. It comes in a 2-pack so I keep a bottle in the shower and a bottle by the bathroom sink. So far, so good!
Sensitive Skin
After dry and itching skin, I am happy to find a product that works!
Great cleanser for sensitive skin
This is a great foaming cleanser for sensitive skin. It effectively removes my non-water-resistant sunscreen and light makeup, and it doesn't leave a residue or leave my skin feeling dry.
In Love!
I had suffered with hypersensitive skin and eczema on my face for years. Since using this product my skin has cleared and my face no longer hurts after a shower!
Free & Clear - great value
I am an automotive technician working outdoors for the most part. After one month of use I rate this cleanser highly - cleans my mug of grime and residual sunscreen, rinses well and no skin reaction. Im of dry skin and as a non-cream cleanser I do experience some post-wash dryness but I can work with that well enough at this price for volume of product.
Ms. Sensitive
Great product for people with sensitive skin. Cleans very well with no fragrance.
Free & Clear Liquid Cleanser
This is a good product for sensitive skin! I've been using this product for the last 6 months at the recommendation of my dermatologist. I use the liquid cleanser not only on my face, but all over my body in the shower. I also use the other products from the Free & Clear/Vanicream line--shampoo, conditioner, lotions, bar soap., etc....
free and clear liquid cleanser
This cleanser is great! It does the job with nice soapy bubbles. I have tried other fragrance free hand soaps, but this is the only one that does the job well!
Best cleanser
I have extremely sensitive skin and allergies. This is the only cleanser that works for my combination skin. I have tried everything in the last 20 years. This is the best.
Free and Clear
Love this product is an excellent face /hand wash does not ever break me out
Love Free and Clear items
I have used this product to remove my make-up and also to wash my hands. It suds up nicely for doing both and does not leave a sticky film. My face and hand feel smooth
Great Cleanser
I have acne prone skin and it's hard for me to find a cleanser that doesn't make me break out more. This really works for me. It cleans my skin without drying it out and doesn't cause breakouts. This is a really great cleanser. It's good for sensitive skin. I highly recommend it.