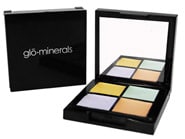 Reviews For
glo minerals Corrective Camouflage Kit
9 Results
Great corrective concealer
Love the creaminess of the product. Easy to apply. Great coverage and camouflage. Only negative is wish the product was larger. LovelySkin Customer
Verified Purchase
Lacking coverage
The purpose of concealer is to hide imperfections but this concealer does not stay on well. I make it work by adding concealer at the end of my makeup application but the result leaves much to be desired. LovelySkin Customer
Verified Purchase
Glo minerals camouflage kit
The product itself is nice, the creams have a smooth texture and apply easily, but the downside is the compact is so difficult to open. Another disappointment is, it doesn't come with an applicator brush. Love all things glo minerals, but this one missed the target. LovelySkin Customer
Verified Purchase
Great Concealer!
I love this! It's a tiny but powerful little compact to have in your makeup bag. Using Glominerals dual foundation/camouflage brush, I use the small brush head to dab mint green over blemishes and yellow under my eyes and around the creases of my nose, and than I layer neutral on top of those areas. Apply foundation (liquid or powder) and blend, applying concealer on top as needed. I've noticed a significant improvement in concealing blemishes and undereye circles than just using concealer alone. LovelySkin Customer
Verified Purchase
Best Concealer
Even though this is $14.40 (on sale), like the other Glo Mineral products it lasts a long time. I only wish you could order the colors separately because I end up with some being used more rapidly than others. LovelySkin Customer
Verified Purchase
My HG concealer kit
If I had to bring only one thing in my makeup kit, this would be it!The consistency is just right-creamy and blendanle,with just enough opacity to cover spots without looking unnatural. The main concealing shade,which is a light, peachy concealer, is perfect for under the eyes or covering acne marks. The green covers redness, the yellow is great for purple bruises under the skin, and the lavender disguises sallow tones. A favorite of mine, and definitively comparable to more expensive camouflage products. Small in size
They fail to mention the product is the size of a matchbox. I paid $14.40 for this thing? Huge let-down. LovelySkin Customer
Verified Purchase
Camouflage Kit
i will continue to use this product to conceal under eye discoloration camouflage those dark circles
combined with color science shrinking violet primer, those dark circles will vanish! LovelySkin Customer
Verified Purchase