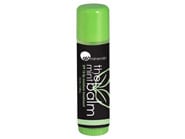 Reviews For
glo minerals Mint Balm SPF 15
8 Results
Great alternative lip balm
I bought this as an alternative to my Qtica, which is pretty thick for daytime (but I tend to use anyway). This lip balm is tingly and provides light moisture. Still in search for something as effective as Qtica but doesn't take as long to soak so that I can apply lipstick on top of it. LovelySkin Customer
Verified Purchase
GloMineral lip balm
I have used this product for many years. Best lip balm anywhere. LovelySkin Customer
Verified Purchase
Gave this product a second chance
I was an avid user and lover of Glo Therapeutics Lip Ritual (now discontinued) but I decided to give this product a second chance after giving away the one I bought last year. I've been using it regularly and it is starting to grow on me. It moisturizes my lips similar to the Lip Ritual, this is now my go to lip balm. Love the mixture of oils this product has, very happy I gave it a another chance. ambereyed
Verified Purchase
Glo Minerals Mint Balm
Love this lip balm!! It's one of my favorites. I got hooked on it 2 years ago and I don't go anywhere without it. A little bit goes a long way and really like that it's larger than most applicators. I've even bought some for my friends. It's so moist. It's great for sunburned, chapped, wind burned lips and you won't get cracked lips in the winter if you use this. LovelySkin Customer
Verified Purchase
Love it!
This is a fantastic lip conditioner. It has a great smell and is cooling when put on. I also love the large size of it. I will use this a lot. LovelySkin Customer
Verified Purchase
Buy it!
This is so much better than any lip balm Ive bought at the store. Will definitely buy again! LovelySkin Customer
Verified Purchase
Wow!
This is the first time I've tried this lip balm and I love it! It comes in a much larger tube than what you buy at the grocery store. The mint gives makes it refreshing and I love that it has SPF (which you wouldn't know by applying it, there is no sunscreen smell). The Best Ever!!
I have always been a lip balm addict, but for many years all the ones I tried seemed to make my lips even dryer....until I discovered The Mint Balm. I have a tube in every room of my house and have now turned my mom, sister and aunt on to it. It really is the best lip balm ever!!! LovelySkin Customer
Verified Purchase