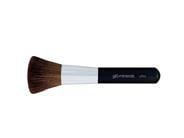 Reviews For
glo minerals Ultra Brush
9 Results
Great brush
This is my second one to purchase. I love how long they last and delivers the perfect coverage for me. LovelySkin Customer
Verified Purchase
texture brush
I use this brush to apply the Glo Minerals Cheek stain. This brush makes it possible to apply the stain without looking like a clown because the long bristles are sparse and only pick up a little color (a little color goes a very long way!!). The shorter bristles help blend the color. LovelySkin Customer
Verified Purchase
Loose bristles
The brush was soft but does not hold foundation. Since glominerals recommends using this for most application, I tried using this with the pressed base and could only manage a very sheer coverage. I much prefer a kubuki brush. Perhaps it works best with the loose base for a dewy look, but I ended up tossing it. Great powder brush
Makeup easily goes on brush and evenly distributes on skin. I use this brush mainly with the glo minerals pressed base LovelySkin Customer
Verified Purchase
Glo minerals brush
I have loved this brush for my glo minerals pressed base application. It does shed a little so that is the reason for 4 stars instead of 5. Not a good mineral brush
The brush does not hold the mineral makeup for application. In addition, the soft bristles of this brush fall out. So, you are left with hairs from the brush on your face with no makeup. LovelySkin Customer
Verified Purchase
Great mineral powder brush!
This brush works great with Glo minerals base! I dont swirl the brush, I simply dip it into the powder a few times. I find that its best to start with a little powder and add as necessary or else you can tell you have powder on. LovelySkin Customer
Verified Purchase
Use this for a flawless appearance
This brush is wonderful. I am know for my complexion. This brush is a big part of this along with the glo mineral base. After many years of use my brush broke and I tried the pad that the powder comes with. There is no comparison. This brush is well worth the money. brush for applying pressed mineral make up
I've found using a sponge works much bettter with the glo minerals make up. Wish I had saved my money on this one. LovelySkin Customer
Verified Purchase