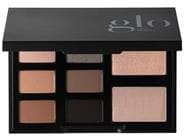 Reviews For
Glo Skin Beauty Shadow Palette
$50.00
Great Product
Nice versatile palette and ingredients are very good for your skin. Really like it. LovelySkin Customer
Verified Purchase
VERY PLEASED
I was a bit skeptical to order eyeshadow online but took a chance and I am glad I did! Moonstruck is great for everyday wear and easily transitions to night. The colors blend beautifully and last all day. I am ordering another palette today. GANurse
Verified Purchase
Favorite eye pallet
Love the colors in this pallet. Very neutral yet can go from everyday to special occasion. It's my favorite pallet by far! LovelySkin Customer
Verified Purchase
Beautiful
This is my new favorite eyeshadow palette! I got the color mixed metals. The colors are gorgeous and they blend beautifully! I just ordered it in moonstruck, also! LovelySkin Customer
Verified Purchase
Struck by this eyeshadow
Moonstruck provides a complete eye look featuring purple and mauve shades. It has the perfect balance of matte, sparkle, light, and dark tones that blend together nicely. And it's talc-free! LovelySkin Customer
Verified Purchase
Love
This is my favorite natural eyeshadow next to urban decay. I use this more as ingredients are better. LovelySkin Customer
Verified Purchase
Beautiful colors, less payoff than I prefer
I'm extremely picky about eyeshadows. I'm allergic to everything, so I have to use high quality products. I also prefer highly pigmented, easily blended powders. These shadows are gentle for my sensitive skin, the colors in this palette are beautiful (mostly - there is one I don't like), and I had high hopes. However, if you're looking for work appropriate options, these definitely fit that category. The finish is nice, too. The shimmery colors are subtly shimmery - enough to catch the light, but not enough so that it looks like a late 90s club girl. I've also noticed that the shadow tends to slip down the outer corners before lunch. I don't have time in my day for touch ups. I wouldn't purchase this palette again unless Glo Skin improves the texture to help with the blending, pigmentation, and slipping I've mentioned. There are customizable palette options out there that give the results I want. color
I love the matte coloring for easy day to night wear. Like
Colors are very pretty but unfortunately I can only use a couple of them. They are in the purple violet range. It does wear well so I will use it. Monicasg
Verified Purchase
Pretty palette!
I love the earth tones. The colors go on rich and smooth and stay put! I use some colors to fill in my brows and line my eyes in a pinch. There is a nice balance of matte and shine. Saretzbach
Verified Purchase
Great Quality & Price
I just love this shadow. It goes on smoothly & does not streak, cake or crease. The configuration of colors is wonderful & all are complimentary to each other. I plan on buying other combos in the future. LovelySkin Customer
Verified Purchase
Shadow palette
Love this shadow LovelySkin Customer
Verified Purchase
Was a gift
Bought this for my mother. She really likes the colors and the way it goes on. Fair price. LovelySkin Customer
Verified Purchase
Perfect color palette
This is the perfect color palette and a great travel size. LovelySkin Customer
Verified Purchase
Great palette
I love these colors, so many options. The shadow is high quality with great long lasting pigment. LovelySkin Customer
Verified Purchase
Glo Skin Eyeshadow Palette
Love this Palette, the colors are more neutral, but love how well they go on. Very pigmented. LovelySkin Customer
Verified Purchase
Nice palette for sensitive eyelids
Really like the color options. My eyelids get dry in winter, product goes on easily and doesn't irritate. LovelySkin Customer
Verified Purchase
perfect colors
I really like this eye shadow. Colors are neutral, which makes them perfect for everyday use. The Color lasts all day. I will purchase this product again. Great eyeshadow...
I am very pleased with this eyeshadow compact. I am 40 so I really hate when shadows end up in fine lines but it hasn't been a problem with this product and it wears very nicely. My eyes are also extremely sensitive and this product cause very little irritation. LovelySkin Customer
Verified Purchase
Beautiful and lasting colors
I am a fair blonde with some redness to my complexion, and this color palette is very neutralizing and enhancing for me. I believe it would be for almost anyone. And the colors are highly pigmented and don't fade after many hours of wear. I am also very sensitive to any skin care or makeup products, and these shadows do not irritate me at all! LovelySkin Customer
Verified Purchase