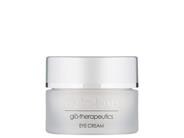 Reviews For
glo therapeutics Cyto-luxe Eye Cream
10 Results
Excellent eye cream
The only reason this gets only 4 stars is that I wish it was in a pump dispenser or tube. It's a great eye cream with respect to addressing hydration, diminishing fine lines and it contains nutrients and antioxidants to combat under eye dark circles and puffiness. It's worth the price, but a delicate product like this should be in an air tight pump container or at least in a dispenser with the least amount of product surface exposure. LovelySkin Customer
Verified Purchase
Moisturizing eye cream
I recently purchased this product after trying a sample I got in a previous order. It seemed very moisturizing and seemed to absorb very easily in comparison to previous eye creams I have used that were very greasy and did not absorb well. The product goes a long way, only a small amount is needed. So far I have noticed the skin under my eye seems a little more moisturized but I haven't noticed improvement in wrinkles quite yet. I will continue to use since it has only been a short time so far. LovelySkin Customer
Verified Purchase
The Bomb: glo therapeutics Cyto-luxe Eye Cream
Cytoluxe Eye Cream is one of the best eye creams I have ever used! It goes on smooth, it lasts, it gives your eyes the great boost that they need. My dark circles have faded, my crows feet are more livable - not as deep and not as many. I tried this before then switched around to different products - always looking for a miracle eye cream. And now I'm back! LovelySkin Customer
Verified Purchase
glo therapeutics Cyto-Luxe eye cream
Excellent product!!!!! Used as a sample from LovelySkin and fell in love with it. Very creamy and hydrating eye cream. Great for my maturing eye area. Reasonable price for the benefit of the product. Recommend highly!!!! LovelySkin Customer
Verified Purchase
Glo-Cyto-Luxe Eye Cream
Wonderful product! only a small dab is needed. It's absorbed by the skin in no time. It helps the dark circle and fine lines dramatically. Prior to cylo-luxe eye cream, I was using the regular glo eye cream. Perhaps because of my age-37, it didn't have the same great effect as the cyto-luxe eye cream. LovelySkin Customer
Verified Purchase
Solid results!
I love this product and currently on my 2nd jar of the product.. I saw results within 2-3 weeks which was exciting and has continued with my use of the product. on my second jar!
Really like this eye cream. The skin around my eyes is smoother, looks more rested. LovelySkin Customer
Verified Purchase
Effective, but ...
can cause eye dryness. Not good for contact lens wearers. LovelySkin Customer
Verified Purchase
This eye cream is so very luxe.
This weightless eye cream goes on smooth without a greasy feel. Eyes look so refreshed LovelySkin Customer
Verified Purchase
Nice eye cream
I really like this eye cream , goes on nicely smells nice and moisturizes my dry eyes . Not tested on animals and does not contain parabens . I would purchase this product again.