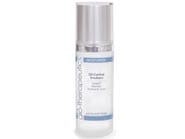 Reviews For
glo therapeutics Oil Control Emulsion
5 Results
Verdict Still Out
I purchased this because of the main ingredient in it, and it was a less expensive product of another product that had the same ingredient. It has been less than a week since I have started using this, and I am not really sure how I like it right now. It does what it says. It is a very light serum that goes on smooth and makes my skin feel smooth and silky. It immediately gives it a nice little glow, my skin looks brighter a few minutes after using it. It does help with minimizing oil, and I have very oily skin, but for me it didn't last throughout the day because of my oiliness. But I am impressed how long it does last keeping the oiliness away. It does have a strong fragrance that is nice, but because of my skin sensitivity, I try to stay away from fragrances. And I have a slight itchy/burning sensation when I use this product that tends to linger for a while. I don't know if that supposed to actually be a tingling sensation, but I prefer to not feel any sensations when using facial products. Overall, I am going stick it out a little longer because the pros do outweigh the cons, and it is not breaking me out so we will see! skeys72
Verified Purchase
Great Product for Sensitve, Oily Acne Prone Skn
This is a gentle, but effective moisturizer for sensitive oily skin. I am a 50+ woman still prone to occasional breakouts and suffer from mild rosacea. This product does not irritate my skin. LovelySkin Customer
Verified Purchase
Gives skin a matte finish
I love this product. Just a little covers my entire face and controls oil for much of the day. LovelySkin Customer
Verified Purchase
Oil Control
I am 56 years old and have very oily skin in the T-Zone. I started using the Oil Control Emulsion as a moisturizer and my skin is dramatically less oily but not too dry. LovelySkin Customer
Verified Purchase
Keeps zits away
I've used this for over a year and any time I think I can go without it, I am a pimply mess. They changed the packaging to a bigger bottle but it's the same amount. The new packaging is annoying as it's so much waste. LovelySkin Customer
Verified Purchase