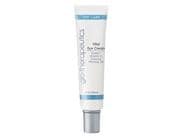 Reviews For
glo therapeutics Vital Eye Cream
5 Results
Always looking for a travel-sized eye cream!
Even though this eye product is not large, it packs a great punch to hydrating and diminishing fine lines. A great staple in your bag!! LovelySkin Customer
Verified Purchase
Go for it!
I got this as a sample and I am buying it--love it. My fine lines are even finer, in that they are lessening more and more every day. LovelySkin Customer
Verified Purchase
Love it
keeps my under eyes hydrated for 6 to 8hrs in an air conditioned room. Have bought this various times. LovelySkin Customer
Verified Purchase
Fantatic Eye Cream
The previous negative review was written 2 years ago and I urge you to discount it because this product has improved dramatically. I experienced the same situation as that writer a year ago but but in September I ordered it and tried it again. I am so glad I did. The product is a clear, rich, silky smooth, nourishing cream that soothes my very dry eye area immediately and lasts all day. On the rare occasions when I forget to apply in the morning, within half an hour of awakening I can feel the tightness around my eyes and I quickly seek relief with an application. I also apply it before bed. As a result my eyes are no longer puffy which was a major problem for me (even during allergy season the cream works to help control swollen eyes), the area around my eyes is bright and wrinkles are barely noticeable. The product lasts a long time if you are careful to dab the cream in the jar with your ring finger and then dab around the eye. I have used only about half the jar in the last 2months. It takes only a very small amount of the product for you to feel that it is working to keep your eyes bright and tone down wrinkles. I urge you to try it and see for yourself. LovelySkin Customer
Verified Purchase
strange color
i returned this product; it had a hard dark yellow film over the top...so i pushed my finger through it to see if the color would change...it did. from the start i wasn't too excited to use the product. Lovelyskin.com made the return process super easy! I'll be back! LovelySkin Customer
Verified Purchase