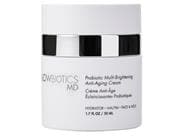 Reviews For
GLOWBIOTICS MD Probiotic Multi-Brightening Anti-Aging Cream
$110.00
3 Results
Love it!!
Im 59 years old and suddenly all my night creams were making me break out or felt too heavy at night. Although this is not specifically a night cream that's the only time I use it because there is no SPF in it. That being said, I really love it! Even though I use this cream only at night I wake up and my skin looks dewy, feels really soft and no breakouts! And, the dispenser is great because it's a pump so you're not exposing it to air and germs opening the jar every night. Reasonably priced , it feels great and hydrated which is terrific especially for older skin when nighttime is rejuvenation time. I recommend this product! Embraceyourage
Verified Purchase
Love!
I notice an immediate difference in my skin. Looking healthier, youthful and more glowing. I am 42 and have always taken care of my skin, but notice a major change after 35. This is part of my daily regimen and my skin is loving it! Lydia96
Verified Purchase
Great anti aging product
Like all Glowbiotics products I've used, this one delivers great results. I regularly receive compliments on my skin, and everyone thinks I look much younger than my age. This line is gentle on sensitive skin yet highly effective. Love it!! LovelySkin Customer
Verified Purchase