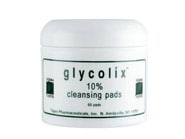 Reviews For
Glycolix Cleansing Pads 10%
8 Results
Only thing that works for my cystic acne
I developed acne on my chin in my late thirties. I tried many products over the last 6-7 years with no results. I actually originally purchased this for my tween daughter who was getting acne on her nose. It totally cleared up her acne in a few days, so I thought I'd give it a shot on my chin. I couldn't believe it when I had the same results! I've been using these pads for about a year now and have not had a single cystic acne pimple. Once I could feel one starting to form deep in my skin, but it was completely gone in 1-2 days (never surfaced, never got red, etc). This product is a lifesaver. I would recommend it to anyone. LovelySkin Customer
Verified Purchase
Same as dermatologist product
Love these gycolic pads! Excited to find these online since my dermatologist was out of stock. Exact same pads at a lower price. Thank you LovelySkin!! LovelySkin Customer
Verified Purchase
glycolix 10% cleansing pads
I've been using these for years. They were recommended by a friend who is a plastic surgical nurse. I use them at night to cleanse all the dirt from the day and to remove my makeup. I then put on my moisturizer. My skin looks really good. I am 70, and people are surprised to hear that I'm not in my early 50s. Great product. LovelySkin Customer
Verified Purchase
Much Clearer Skin After Only ONE Week!!!
Since using 10% Topix Glycolix pads my skin has never been happier! I've used salicylic acid pads in the past, and my skin hardly cleared. Topix Glycolix pads have reduced my complexion problem immensely and minimized the size of my pores. If you're looking for a better complexion and smaller pores, you've hit the jackpot with Topix Glycolix. I highly recommend these pads! LovelySkin Customer
Verified Purchase
Too Strong!
Bought these because 20% was too strong, but so are these. There is Acetone in these pads. My face felt like it was burning all day. I am wondering if the Acetone is too irritating. LovelySkin Customer
Verified Purchase
Excellent product
I really enjoy how this product has cleaned my skin and helped my pores to shrink or be less visible. LovelySkin Customer
Verified Purchase
I'm a guy, and I like this product.
I have oily skin with large pores. Use of this product has brought the former under control, and my pores have shrunk to the point that they're barely noticeable. I would recommend this product even to people who don't have the same problem as I do. If having a clear, youthful complexion is what you want, then this product can help you achieve that. LovelySkin Customer
Verified Purchase
Topix Glycolix a must for me!
I love Topix Glycolix. As a 55 yr old, my skin is still breakout prone as well as flaky and dry. I must use a pad on my face at night after washing not only to ensure that my skin is clean and flake free prior to sleep, but that my skin will also be in great condition for smooth makeup application the next morning. LovelySkin Customer
Verified Purchase