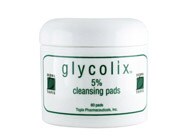 Reviews For
Glycolix Cleansing Pads 5%
10 Results
Effective, but not too drying
Was getting my dermatologist's 5% glycolic acid pads and when they ran out, I tried these. They're a bit more drying but they're pretty effective. I only use them a few times a week, at night, and moisturize afterwards. I do notice my skin texture is a bit better in the AM and I think they're helping overall with my acne. LovelySkin Customer
Verified Purchase
Gentle
Got these for a daily/nightly cleansing type pad. Non irritating and drying. But it also is very effective at keeping my clogged pores clear. Will definitely be buying again. These are only 5% glycolic acid so they are very gentle. If you are looking for more of a "peeling " type product I would order the higher glycolic level. They have different percentages . This one I purchase is the lowest , 5% Love!
These glycolic pads are great! my skin feels extra clean and doesn't sting. I like using these when I'm peeling and flaking from my Retin A. It helps to gently exfoliate. corinneg
Verified Purchase
Great Exfoliant
Having been using Glycolix cleansing pads for years. It removes residual makeup and leaves my skin feeling cleaner than anything else. LovelySkin Customer
Verified Purchase
Great as part of a multi-step cleansing routine
I use these pads daily as part of my 5-6 step skincare routine. After cleasning my face and using a toner, I apply half a pad (cut them b/c one pad is too much for face and neck) and wipe across face/neck.. Then I wait 10-20 minutes (brush teeth/wall dogs) to let the AHA penetrate and move on to my next skincare steps (serums/moisturizer/sunscreen). The pH for this product is 4.0. I think it does a great job of cleansing my skin and prepping it for the next steps. I've never noticed a smell and the AHA percentage is so low that it doesn't irritate my skin. If you need to lower the pH of your skin for other products to penetrate this product may work for you since it's non-irritating (I don't have sensitive skin combination with tendencies towards dry in the winter). I do feel like my skin is smoother with this as part of my skincare regimen. LovelySkin Customer
Verified Purchase
Glycolix 5% for sensitive skin works
After using other glycolic products I found Glycolix 5% pads and have been using them daily with no irritation or burning. My skin is clearer and smoother and less "cloudy" looking. I have sensitive skin and rosacea. I have to be very careful not only with the products I use but also the strength of the product. My skin care professional recommended using glycolic acid once a day instead of any kind of manual exfoliation. The initial strength recommended caused my skin to burn, redden and peel. Then I found Glycolix 5% and have been using them daily with no irritation, burning or reddness. LovelySkin Customer
Verified Purchase
Good Exfoliator
This is good, Im currently using this version rather than the salicylic acid combination because Im pregnant. Its strong but not as strong so it doesnt deal with acne as well as Id hoped. Still, good exfoliation so I would still recommend it on that alone. LovelySkin Customer
Verified Purchase
great for exfoliating, less so for acne
when i start breaking out i swetch to the gly-sal combo and that does the trick, 3-4 days later i'm back to my basics. i tried 10%- it was way more drying. i'm going to reerve that for non facial areas LovelySkin Customer
Verified Purchase
Not bad
I haven't seen great results, but it isn't irritating to my sensitive skin, and it has a pleasant smell. I would recommend to people with minor acne. It's good to freshen up, though. LovelySkin Customer
Verified Purchase
glycolix
I'm using Glycolix pads 5% strength, every other night. I've been doing so for about a month and have had no adverse reaction; in fact, I see a definite refinement of the texture of my skin. Since I have an underlying roseacea (sp?) condition, I've been a bit timid about increasing the use of Glycolix, but am about to step up to once a day. Will let you know how that goes. Thanks for the product. LovelySkin Customer
Verified Purchase