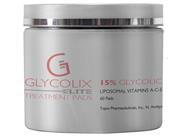 Reviews For
Glycolix Elite Treatment Pads 15%
Love them!
These work great, just the tiniest tingle. I use them nightly after washing my face. My skin looks so smooth when I wake up! LovelySkin Customer
Verified Purchase
Great product, 2nd order!
I am a big supporter of this product. The glycolic treatment does not leave my face dry or flaking—just smooth and removes the cell build up. It leaves my face softer, particularly the next day. I use the pads 2-3x per week, at night. Then, apply hydrator. Next morning, face is soft and hydrated. I think the pad is a perfect application solution. Just the right amount of product, one pad for entire face. LovelySkin Customer
Verified Purchase
Helped acne clear up
I really love these pads. They have cleared up my adult little acne and have made my skin look much more even in color and tone. Vickick
Verified Purchase
Awesome Glycolic Pads!
I have been using these pads for quite a while and really like them. My dermatologist office recommends and sells them but, fortunately for me, LovelySkin sells them at a better price. I halve them and use one half after cleansing in the morning and the other half after cleansing in the evening. I then follow with a Replenix moisturizer. I find that they do have a brief tingling effect but they do not make my skin feel tight or dry. LovelySkin Customer
Verified Purchase
Cleans really well
I've used other glycolic pads, but like this one better. My face feels really clean. LovelySkin Customer
Verified Purchase
Amazing
I have only used this twice and my skin is so soft. On my face, I have very bad discoloration which makes my face a couple shades darker than my body, but I can tell this is going to help a lot. To give you a good description of my skin, it is keke palmers tone but I know with continual use it will all be even. LovelySkin Customer
Verified Purchase
Really Cleans, Safe product.
When I was pregnant a few years back and breaking out in hormonal acne, an aesthetician recommended this product to me because you can't use most products, especially salicylic acid, but these are safe. They clean my skin, tone it and help prevent breakouts. They have become part of my daily skin care routine. Thank you LovelySkin for the best price! LovelySkin Customer
Verified Purchase
Love, Love, Love
These are great pads that have improved the texture of my skin. I use them 3-4 times a week and will continue to keep in my skincare routine. LovelySkin Customer
Verified Purchase
Great for Travel
I fly a lot. I dont like to take my Clarsonic face brush with me. I put a few of these in a ziploc snack bag and wipe clean my face, then rinse. Its gives you a deep cleansing. But start out with 10% if you arent used to the 15% yet as it may be a little strong for you at first. Very handy! LovelySkin Customer
Verified Purchase