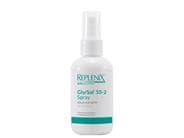 Reviews For
Replenix Acne Solutions Gly/Sal 10-2 Spray
15 Results
Mixed feelings about this product
I like the Gly/Sal combination, but I don't like the way the product smells. LovelySkin Customer
Verified Purchase
Too new to rate
I bought this to spray in my mask because I'm starting to get maskne. I'm not sure if I bought the correct thing as this is specifically for acne in the body but it has and ingredients to fight face acne. I haven't sprayed my mask with this as of yet so unable to rate at this time. sjacks02
Verified Purchase
Great for Back/Chest Acne
Spray is easy to use on hard-to-reach areas. My teen daughter's skin on her back and chest looks clearer since she has been using it. Would have given 5 stars if bottle were bigger. LRubinger
Verified Purchase
So far so good
Purchased this product to help get back acne under control. So far I am seeing major improvements! The spray bottle makes this easy to apply alone. LovelySkin Customer
Verified Purchase
5 star acne spray
This is a great product and perfect for the hard to reach areas like your back and legs. Fast and easy and it works if you are consistent with applying the product as directed. Great for Spot healing
After I cleanse my face, I spray a bit of this spray on my trouble spots and within a day or 2 they are healed up. Love this healing spray! LovelySkin Customer
Verified Purchase
Awesome
I've lived with back acne all my life. I think this product has helped tremendously. I love it and will buy it again LovelySkin Customer
Verified Purchase
Spray for difficult to reach areas
After working out sweat irritates certain areas of my back and becomes prone to acne. This spray does the trick for treating those areas and is easy to apply. LovelySkin Customer
Verified Purchase
Good for body acne
Liked this spray for body breakouts, but did not repurchase because the bottle was a little too small. Next time I'd like to find something similar but a bigger bottle and cheaper price. Replenix seems to be a decent brand though! I'd be up for trying other items in the future. LovelySkin Customer
Verified Purchase
Product Works!
I absolutely love this product! I started breaking out on my back and chest and decided to try this product and saw results in a matter of a week of using. Potent and definitely cleared up my skin! The only issue I had with this product is that the spray portion started giving me trouble and the product would not come out easily. Product itself is great but the spray bottle could use some work. LovelySkin Customer
Verified Purchase
Worked well but was itchy
I get acne on my back and chest, so I bought this to try and reduce it. When I used it on my chest, it itched so bad I had to stop spraying it there. So I only use it on my back. The other reviewers are right in that the smell is strong. I spray it on my back right after drying off from the shower, then I go sit by a fan for a minute to dry. It does do a great job and I recommend it but for anything but my back. Other users may have better results all overt but unfortunately I did not. LovelySkin Customer
Verified Purchase
wow! Potent but works
I used this as a toner for my face and on my body after shaving and ingrown hair prevention. Wow this is potent stuff. If you are too sensitive to AHAs this is not for you. This concoction is no joke! It's so potent that just sniffing it makes my nose run and eyes burn! However it works!!! it exfoliates those pores and helps skin absorb product more efficiently into the skin by getting rid of dead skin cells. I had to apply it to a cotton ball because the pump stopped working. Only use this product if you have built up tolerance to most glycolic acid products on the market. LovelySkin Customer
Verified Purchase
Amazing product!
My husband has been using this to prevent acne on his neck caused from heat and sweat here in Arizona. It is the first product that has ever actually worked on him and he loves it! LovelySkin Customer
Verified Purchase
Miracle spray
I work out a couple times a week and even with showering immediately after I will still get some breakouts on my chest and back. Ive used a couple different body sprays but this one is awesome. Spray it in a well ventilated area! You do not want to inhale this stuff. LovelySkin Customer
Verified Purchase
Back acne spray
It's strong and works great for those hard to reach areas that break out sometimes. I'm hooked