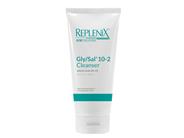 Reviews For
Replenix Acne Solutions Gly/Sal 10-2 Cleanser
55 Results
Not bad
A bit drying and I'm still trying to figure out if it's helping my skin but it may help acne prone gals Sgarabin
Verified Purchase
Long time user
I was first told to use this product by my dermatologist - that was 8 years ago! Best facial cleanser for keeping my skin in check! LovelySkin Customer
Verified Purchase
Great cleanser
This is very concentrated so you only need a dab. If you use too much it's hard to lather. It cleans skin thoroughly without drying and it has helped keep my acne at bay. I highly recommend and for the price you can't go wrong. Great for Acne
I have been using this product for over 10 years. It was previously a different manufacturer but I love this one. My skin stays clear from cystic acne as long as I'm using it. It doesn't dry me out but I am consistent with moisturizing. If you are very sensitive I'd go with the 5% instead. Make sure you wear sunscreen. I was so grateful to find it here for half the price of the spa I visited years ago. Good Stuff
Works great on my face and back areas LovelySkin Customer
Verified Purchase
Great Cleanser!
Started using this cleanser years ago that my Dermatologist recommended. Keeps my skin exfoliated, blemish free and non-drying. Highly recommend it! LovelySkin Customer
Verified Purchase
Works but has its issues
I have mixed reviews for this cleanser. I started with the acne pads first and had no issues. The pads were working slowly, so I tried to accompany the cleanser with it. The cleanser is really thick and dried out my skin a lot. It also doesn't wash off easily. I would use the pads afterwards and find my skin was still soapy It did help to speed up the clearing of my acne but I would suggest using brush when washing the cleanser off and a strong/thick moisturizer to prevent drying. SillyP25
Verified Purchase
Exfoliating, but may be a little irritating
I use this in the morning for exfoliation purpose since I need to use salicylic acid to stabilize my acne-prone skin. However, I found the sulfonate surfactant to be a little too irritating. Also the ingredient list seems to be in a weird order. Like this very much
So far, I really like the way the cleanser foams and fells great! I have just started using it for about 3 weeks, but I feel the difference and so far I would definitely buy it again. I have adult acne and have been looking a long time for a good cleanser. LovelySkin Customer
Verified Purchase
Amazing
This cleanser made my skin purge and dry during the first week. After that, I was amazed how this cleanser clears blackheads and pimples on my face. The pore on my face is minimized and clearer. I love it. Gly/sal
This face wash is a little drying. I have acne-prone skin, and wanted to try a new cleanser. After I finish using this cleanser, I probably will not purchase it again. It also has a baby powder-like smell. LovelySkin Customer
Verified Purchase
Go-to cleanser
My teens and I have been using this cleanser for years. We will continue to use it for acne and anti-aging (for me). I stopped using it for a week or so and my skin could tell the difference. I broke out so badly. I'll never go without it! LovelySkin Customer
Verified Purchase
For teenagers
Great for teenagers ff you have any acne problems. LovelySkin Customer
Verified Purchase
Improvements With No Harsh Side Effects
Love this product line. Upgraded from the 5-2 Cleanser and definitely noticed more improvements in my skin without the harsh side effects I thought I would get from using a stronger cleanser. LovelySkin Customer
Verified Purchase
Great product!!!
I like this cleanser very much! I've used it for a week, but I've already noticed that my pores have seen much more clean. First, I got some small pimples, but they have gone quickly. My skin has been looking more fresh and glowing. I have combination skin, and it doesn't dry out my skin. LovelySkin Customer
Verified Purchase
Jury is still out, sort of.
Just started using this last week as I've been using the Obagi Clenziderm for several years. I have other Replenix products, so I thought I would give it a try. 1. I can hardly get the cleanser out of the tube. I have to lay it flat on the counter and press all my weight pushing on it to get just the tiniest bit out. Too much effort to wash my face at the end of a long day. 2. Lovely Skin AND Replenix couldn't have provided any better customer service. A replacement is on its way. Hopefully, the new bottle won't have the same issue. Looking forward to seeing how this cleanser works. LovelySkin Customer
Verified Purchase
Bought for a friend
I highly recommend the Replenix brand. I bought this for a friend of mine who was having some skin issues, and she LOVES IT! Works great for her skin problems. LovelySkin Customer
Verified Purchase
Not for dry skin
This cleanser makes my skin so dry. LovelySkin Customer
Verified Purchase
Good combination
The combination of gly/sal works very well on my oily, olive skin keeping pores open and preventing the formation of comedones. The formula does not irritate my skin and when used with a washcloth leaves my skin clean removing makeup, etc. LovelySkin Customer
Verified Purchase
Excellent cleanser for acne
I purchased this cleanser for my teenage daughter. It has worked well to control her breakouts without drying out her skin. I would recommend this for moderate acne, and we will likely buy this product again. LovelySkin Customer
Verified Purchase
Ance under control
This really made my acne on my face undercontrol. LovelySkin Customer
Verified Purchase
Good cleanser
I've used this cleanser for a few weeks now. At first, I did experience breakouts along my chin area. I almost quit using it but decided to continue. I'm glad I did. My skin is clearer, and it actually glows. There's a noticeable difference in my skin tone now. My skin is also significantly softer and smoother. This cleanser is drying, but a good moisturizer/sunscreen has remedied that problem for me. LovelySkin Customer
Verified Purchase
Skin care
Great product, lathers well and pleasant scent. Leaves face feeling smooth and help with acne LovelySkin Customer
Verified Purchase
Dark Spots + Acne
I love that this cleanser has both Glycolic Acid for my dark spots and also Salicylic Acid to control acne. Kills 2 problems with one wash. I started with the 5-2 product and recently changed to this stronger version. This will be a staple in my skin regimen. LovelySkin Customer
Verified Purchase
Great micro peel!
My dermatologist recommended the Gly-Sal 2-2, but I wanted more glycolic acid so went with the 10-2. I use morning and evening with my Clarisonic, and I leave it on for a minute or two before rinsing for a daily micro peel. I switched to this from Proactive, which was very drying and bleached my clothes. Other over the counter products (such as Neutrogena Acne Wash) just didn't work. This is a great product, and you need less than a dime sized amount, so it's a good bargain. Highly recommend! LovelySkin Customer
Verified Purchase