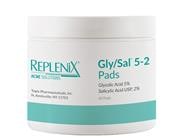 Reviews For
Replenix Acne Solutions Gly/Sal 5-2 Pads
65 Results
Great toning pads!
I have ordered these several times now! They are great to remove dullness, improve texture, and prevent blemishes. LovelySkin Customer
Verified Purchase
So far so good.
I bought these to help clear up my congested chin and to help my serums absorb better. I've been able to use once a day for a few weeks now with zero irritation, besides a mild sting when applying. I've seen my chin clear a little already. LovelySkin Customer
Verified Purchase
Holy Grail
I have been using retinol and vitamin C for years, and it honestly wasn't until I added these pads to my regimen that my skin stopped breaking out and started GLOWING. And the price is ah-mazing to boot. Love love love! LovelySkin Customer
Verified Purchase
Useful for traveling
I got these pads for a trip so not having to take multiple things was great. I use these once or twice a week to keep my pores clear and find this to be appropriate for my skin. I am 65 and use retinoids so keep my other products gentle. This works well for me. LovelySkin Customer
Verified Purchase
Fantastic!
I noticed a difference after first use. I love to use these after working out to help clean my skin before I can hop in the shower. Also works on other body acne. Perfect for acne due to sweat. LovelySkin Customer
Verified Purchase
Upgrade from the Gly/Sal 2-2
This is what my adult son with breakouts uses due to masks and HVAC work. Started on the 2-2 so his skin was not irritated. His skin looks much better. Don't forget sunscreen! fiveone5
Verified Purchase
Will repurchase when I need more
Fast and free shipping. The product came with a sealed and was exactly like the brand I bought from my dermatologists office. The pads have a lot of product on it and work just like gly/sal 5-2 pads I've gotten before. I like to add the pads to my morning routine when using tazorac because it helps the exfoliation process. When I run out I will be rebuying LovelySkin Customer
Verified Purchase
Good Product
These seem to be doing a good job at evening my skin tone, I'm not sure how well they are working at preventing break outs. LovelySkin Customer
Verified Purchase
Sal pads
I bought these for my preteen daughter and I'm so glad that I did. She has very sensitive skin and these don't irritate at all. They work great too! LovelySkin Customer
Verified Purchase
Works great
I was purchasing something similar with a $65 price tag so I looked for an alternative and found this one. Been using for a month now and works just the same. LovelySkin Customer
Verified Purchase
Game changer
Love them but are strong, ease your way into use LovelySkin Customer
Verified Purchase
Gly/Sal
These pads helped clear up my daughter's acne. LovelySkin Customer
Verified Purchase
Love these!
These are so easy to use and keep my breakouts from starting - I saw results within a week of use. I have sensitive skin so I started using them once a day, usually before bed and now I will use them up to two times a day if I feel oily. LovelySkin Customer
Verified Purchase
Gentle and effective
I have used these pads for my stress acne. I also bought a jar for my friend who has acne very frequently. We both had great results in just a few days. The blemishes resolved and our skin wasn't dried or irritated from the treatment. Will always keep these on hand for breakouts. SharonJ
Verified Purchase
LOVE LOVE LOVE
These pads are a life saver! My skin is smooth, glowing and my acne scars are fading. LovelySkin Customer
Verified Purchase
Pretty good
I found this product worked pretty good. Not as effective as my tea tree spot treatment, but the convenience of the pads would be great for travel. I like how you can cut the pads down to extend their use, and the pads didn't dry out for over a week or two. Just ok
It's not the best at preventing breakouts but works okay. LovelySkin Customer
Verified Purchase
Great for mild acne and blotchy, acne scarred skin
This product saved my skin. I'm 25 and had been wearing foundation on my face regularly for 10 years, resulting in constant mild acne and blotchy, acne-scarred skin. An esthetician recommended this product to me and three(ish) months later, my skin hasn't looked this good in years. It's not perfect. I still have some blotchiness/acne scars, and also redness on my cheeks and somewhat enlarged pores on my nose that I don't think this product helps. However, it doesn't make the redness worse (considering it contains acids) and has helped clean out the blackheads in my pores as well, though they could still use some work. Overall, I feel this product has done what it said it would and would definitely recommend, especially for the price. I normally use the same pad twice so they last me awhile. shinecaity
Verified Purchase
Very Impressed with this product
I just received this product and have only been using for 2 days. For the first time, I have noticed that my blackhead are gone on my nose and chin. This has been a struggle for me for years. I have purchased products for the pharmacy and from my dermatologist and have gotten very little results. The LovelySkin Customer Service person was amazing in directing me to this product, and I am very happy to be rid of my clogged pores. barbiemex
Verified Purchase
Great for acne and aging
I use this for my fine lines and dark spots and it leaves me with a nice glow. My tween daughter also uses and helps remove the dead skin clogging her pores. LovelySkin Customer
Verified Purchase
meh
I have combination skin. Dry cheeks and breakouts on my chin and t-zone. I've used this product 2 days a week for a month, hoping to get good chemical exfoliation with the glycolic acid and some acne treatment with the salicylic acid, didn't make a speck of a difference. I think I'm going to up it to the 10-2. shayna92
Verified Purchase
Great for Acne
These work well for maintaining acne, and I love the combination of a BHA/AHA in one peel. This is exactly what I was looking for to tackle aging acne-prone skin. BUT, I am disappointed to see alcohol listed on the ingredients. Not only is this too drying for skin, it also ages the skin faster. I would love to find a replacement that is better for my skin, but as of right now I am continuing to use these because in the short term, it works. LovelySkin Customer
Verified Purchase
Only thing that works for me!
Lifesaver!! Love this. I have very oily, acne-prone skin, and this is the only thing that works. I find using the 5-2 is best to not be to harsh on skin. I also use the Replenix fortified gentle cleanser with this which they compliment each other very nicely. This takes away the oil and gently exfoliates your skin. Not harsh at all. Skin is feeling refreshed and looking great! Jnine11
Verified Purchase
Great toner
These pads are great for toning and exfoliating your skin! Plus, they've helped with clearing up my adult acne. LovelySkin Customer
Verified Purchase
Body care
My use of this has been limited to neck, chest and shoulders where I have been getting embarrassing breakouts. Within a couple of days, my skin was looking more clear and smooth. It stings a little at first but does not seem to irritate long-term. LovelySkin Customer
Verified Purchase