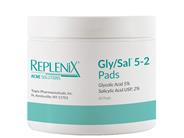 Write a Review - Receive 50 Rewards Points!
Tell us your thoughts about Replenix Acne Solutions Gly/Sal 5-2 Pads so we can help you find the right products. With your review, you'll also receive 50 Rewards Points. Please note that it may take up to 72 hours for a review to appear on site. All reviews are subject to moderator approval.
Write a Review
25 Results
Big Fan!
I had been out of this product for awhile and recently reordered it and I am so happy I did. It noticeably makes a difference after a few days. I use this every morning before I moisturize and it shrinks my poor and gives my skin a glow. The 5-2 works best for me, I had tried the 10-2 as well.
Helped me contain ingrown hairs
Was recommended by my dermatologist and it has done the trick, knock on wood.
Favorite "Glow" product
These peel pads have been a mainstay in my skincare routine for a few years now. Smoothes out my skin and tackles both acne and aging - which is great as I am 43. They create a smoothness and glow with no irritation or redness.
Replenix acne solution Gly/Sal 5-2 pads
These pads changed how my skin looks..I'm so pleased with how my skin is.. I will continue to use this pads.
Staple in my skin care routine
I have sensitive, acne-prone skin with hormonal breakouts. I do notice a difference when I use these before bed. Gentle for everyday :) This is a true staple in my skin care routine!
Not a miracle product, but...
I have milia cysts along my jaw and chin area. I already use a glycolic lotion in the morning and I added this to my evening routine, just prior to a retinoid gel. I was hoping this would help prevent additional cysts from forming, but that has not happened. However, I have noticed (after a couple of weeks of use) I have much fewer blackheads on my nose. So while it did not accomplish what I was hoping, there was some benefit. I probably will try this product in a higher strength when I finish this jar. After using this my face reddens and there is a slight tingling/bordering on burning sensation, but this does not last long. The smell is pleasant.
Keeps pores clear
A swipe of this on my t-zone after washing my face helps to keep my pores clear and those annoying breakouts on my chin better-controlled.
Works wonders
This product is a miracle worker! Cleared up even the tiniest of blemishes without being too drying. Definitely keep it away from sensitive eye or neck skin, and make sure to use a moisturizer afterward. Will buy again.
Gly/sal pads
I love this product! It helps with my oily skin, but does not dry my skin out like other products I have tried in the past. It has cleared up my complexion and any little bumps I had in the past on my face. My face is now smooth. I cannot live without this product!!!!
Can''t live without
One of my favorite products ever. On my third tub. I use one pad every other day, on my face and neck. They keep my forehead and neck from breaking out in tiny bumps and pimples. For me, this is one of the best, and least expensive, ways to exfoliate and clean my adult, acne prone skin.
Good for Acne
My dermatologist recommended these as part of my acne regimen. I use them after washing my face it helps dry out any pimples and remove any dirt and oil on the skin.
Glycolix
I love this product. I have sensitive skin and this product does not irritate or dry out my skin like other products.
Good intro to glycolic treatments
The last time I had a facial, the esthetician suggested these pads for maintenance. Id never used glycolic acid prior to the facial or these pads, and I had a good experience for about 6 months. I initially experienced no redness or even much tingling, and my skin became smoother and more refined. I unexpectedly had a reaction after those first 6 months or so, with severe itching and some redness after a typical pad application, so Ive discontinued usage. However, my sensitive skin or type of reaction aside, these seem like a relatively gentle introduction to glycolic products and they did yield good results for the 6 months I used them.
Great for getting rid of pesky whiteheads
I get laser hair removal treatment once a month on my entire face. Afterwards, I break out with dozens of little white heads. I use just one of these wipes and rub it over the whiteheads. Not only do they disappear, but these wipes provide treatment as well. You wont be seeing those whiteheads again!
Holy grail product!
I have been using these for a while now. They are just the best bang for your buck! Cheap, easy, effective. Really great super mild peel for everyday use. Perfect exfoliation without the dry, peeling effects of a deeper peel.
good big size!
love it, great for oily skin!
Great product
This brand might not be in a fancy package, but it is very effective brand. My teenage son and I both use this product. Also very easy to use especially for those days when we are in a hurry.
Helps clear unwanted acne sooner
My dermatologist recommended these pads along with medicated topical. These are very effective but I find I cannot use twice a day as derm recommended as they dry out my skin. I usually use them only when I have broken out or feel I might. They definitely help dry out/get rid of any acne and prevent what has started to get worse.
Effective against milia
Ive been using these pre-soaked wipes for a little less than a month, and Im pretty impressed. This is the only product that has been effective against the milia on my forehead and the blackheads on my nose. (Still there, but slowly decreasing and less noticeable.) For the first week, I applied the product morning and night. Then I switched to night only, because it makes my face very shiny (with or without moisturizer and/or makeup). Im hoping this will go beyond just managing the blackheads and milia, and actually eliminate them. Ill post again at the three-month mark.
Effective and gentle for anti-aging or acne.
I have very sensitive skin and most products irritate it. I was looking for glycolic/salicylic acid pads and did some research and found dermatologists sell these for way more than LS. I tried them and they do not irritate my skin. They are fragrance-free. And if you read the ingredient list, it is quite short there is not a lot of weird chemicals in it. However, even though one of the ingredients is acetone, it must be such a small amount that it is not an issue. Acetone is used before professional peels, as a degreaser, so the peel can penetrate better however, these work better than any peels I got talked into at the dermatologists office in terms of skin brightening and exfoliating. One pad will clean your face, neck, and chest. I had a skin tag on my chest, and I rubbed the pad on it daily for a week, and it got smaller each day, until it finally just flaked off! My 16-year-old daughter even uses these, and it cleared up some huge pimples on her face. Now she uses them at night. I used them in the morning only, though, before I put my sunblock on. Dont let the plain packaging and no fancy fragrances fool you. This stuff is pretty amazing!
Excellent!
The product does precisely what it's supposed to do, and i recommended by dermatologists for certain skin types. And LovelySkin has the best prices and an incredibly efficient and gracious customer service/fulfillment staff.
Great product
I was looking for a less expensive alternative to the ZO Skin Health TE pads and a lovelyskin.com representative recommend this. It works to keep my acne in check and does not over dry.
Love, Love, Love
They are a great mild exfoliant. I use them and so do my teenage boys. I keep a backup supply so that we never run out.
Amazing!!!
I love these pads! I can't live without them. Soft, smooth, and smell good. Not too strong either. Mild sensation occurs.
TOPIX 5/2/ PADS
This is a great daily exfoliant for all skin types!