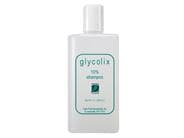 Reviews For
Glycolix Shampoo 10%
4 Results
Awesomeness
Glycolix 10 % Wash is so awesome! My hair and skin are smooth ! Gorgeousgal50
Verified Purchase
good Paraben-free formula!
It is important to me to have Paraben-free products like this because of the strong link between parabens and cancers. This is a good product, the fragrance is ok-smells exactly like Johnson and Johnsons golden yellow baby shampoo. Most importantly, it works. LOVE it!
I use this product as a body wash to control acne on my back and chest. It works amazingly well. I have also used it as a shampoo when other products irritated my scalp, and it releived irritation after only one shampoo. LovelySkin Customer
Verified Purchase
excellent product!
For those of us whose skin is oversensitive to the main stream shampoos and conditioner, this product will help! It's Alpha-hydroxy base will clear your skin of any cosmetic (shampoo) induced acne; It did for me and I now only use this shampoo. LovelySkin Customer
Verified Purchase