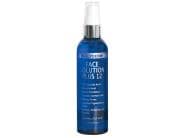 Reviews For
GlyDerm Face Solution Plus 12%
12 Results
Love this
I use to get this from the dermatologists office. I was so happy to find it here. Love the way my skin feels Gigigal
Verified Purchase
Disappointed that alcohol is the primary ingredient
I did feel a tingling sensation when I tried this product, but I'm not sure if that was the 12% Glycolic Acid or the Alcohol--which is the primary ingredient. It's unfortunate that GlyDerm didn't use witch hazel or distilled water as their primary ingredient. I've always been advised by dermatologists and aestheticians that alcohol is overly drying and will cause the skin to overly produce oil in response. Also, alcohol in no way adds to the effectiveness of the glycolic acid. CocoC13
Verified Purchase
GlyDerm Solution Plus 12%
I have only been using your product a short time, but already notice a difference in my skin. I have a tendency to have large pores on my nose which have greatly decreased. The skin on my nose and forehead is tight and has a nice glow. I am very happy with your product. LovelySkin Customer
Verified Purchase
Amazing
I was browsing this site (awesome by the way) adjusted the filters and came across this product. I have extremely oily and acne prone skin. I was desperate to try anything for my acne scars/hyperpigmentation. I have brown skin so the scars just look horrible! Didn't even try the 5% or 10%. Purchased this and just hoped it would work. I'm glad I did. This product literally saved my skin!! LovelySkin Customer
Verified Purchase
Great product for adult acne
This product is quite strong, so ensure your skin is used to salicylic and glycolic acid before trying. That being said, Ive found this product to be quite effective with my oily, hormonal acne adult skin. It is drying, so you may need to start with every other day and then progress to daily. It has noticeably reduced the hyper pigmentation from prior acne. LovelySkin Customer
Verified Purchase
exfoliate and cleanse
Helps remove the dead skin without making scratches and openings in the skin. LovelySkin Customer
Verified Purchase
A great way to keep your skin clear and exfoliated
I purchase GlyDerm face solution plus 12% for my nephew who has Cystic Acne. I have noticed quite an improvement in his complexion since he has been using it. We both agree that it keeps his pores clear of debris and helps prevent breakouts. LovelySkin Customer
Verified Purchase
Excellent product
I have been using this product for almost twenty years and I have been told I look at least ten years younger than I really am!! It keeps my skin clear, and reduces the affects of sun damage(I was a sun worshiper for years) by minimizing age spots and freckles. I love it!!! LovelySkin Customer
Verified Purchase
Great exfoliater
Great product, although as others have mentioned it is strong and smells kind of like medicine. However, it does do what it claims in exfoliating the skin and keeping it clear. If you are using other gyl. products, I would recommend using sparingly, or substituting this product for the others. The price is reasonable and it will last a pretty long time. I have just starting using it, but so far I have not noticed any irration, IT does dry out the skin a bit, so I would use a mouisterizer in addition to this great product. Thanks LovelySkin Customer
Verified Purchase
Works Perfectly
This really helps my oily skin and unclogs my pores. It really does work overnight. I use sparingly because it is a strong solution. LovelySkin Customer
Verified Purchase
Glyderm spray 12%
Works overnight on skin lesions that are dry, scaly & pimples just breaking out! Hold your breath, as the medicine is strong smelling. LovelySkin Customer
Verified Purchase
great product
Amazing product. Doesnt sting or overdry and provides nice clear glow to skin the morning after use. LovelySkin Customer
Verified Purchase