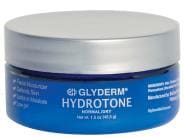 Reviews For
GlyDerm Hydrotone Facial Moisturizer
9 Results
GlyDer Hydrotone Facial Moisturizer
Have been using this recommened cream from my dermatologist for ver a year now. Absolutely satisfied with the results, and will continue to order this product. Love this product!
When I use Retinol on my face, this is my go-to! It moisturizes great! I usually use the Ole Henrickson Truth Serum under it. Muttlover
Verified Purchase
Great to balance out Retin-A, glycolic, or exfoliating products that dry your skin out.
I recently had a chemical peel that left my skin flaking. My aesthetician did not want me to use a scrub to remove the flakes/dead skin but wanted to let it take its course so there was no scarring. This was a lifesaver to help moisturize my skin at night during the peeling process. It's a great nighttime moisturizer in general. As I'm getting older, my skin needs something this thick and creamy to leave on my skin when regular lotions aren't enough. LovelySkin Customer
Verified Purchase
Upgraded from Hydrotone Lite
When I was younger, I used the Lite version. Now, it's just plain hydrotone. It's a rich, non-greasy cream, and I really love it. I used to have oily skin, but no more. LovelySkin Customer
Verified Purchase
A bit too drying
I really wanted to like this product, but my skin is too dry even when using this product. After I have applied it, I need to follow up with a heavy moisturizer on top. Great products
I always used the Hydrotone Lite which is also a wonderful product. I'm a little older now and not as oily, so I tried the Hydrotone. Best moisturizer, it only takes a dab so the jar lasts a long time. Well worth it. LovelySkin Customer
Verified Purchase
Love Hydrotone
I've been using Hydrotone daily for at least 4 years now. I have dry skin and find this product works excellent for me. It's not greasy and it makes my skin feel much better. LovelySkin Customer
Verified Purchase
Love My Hydrotone
I've been using this product as part of my nightly skin regimen for several years at the suggestion of my dermatologist. I find it to be a great moisturizer. LovelySkin Customer
Verified Purchase
Time Stands Still
Skin aging-time stands still. LovelySkin Customer
Verified Purchase