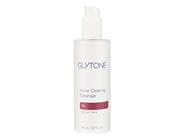 Reviews For
Glytone Acne Clearing Cleanser
$33.00
12 Results
This stuff is great!
Perfect for both morning and night use, and I love how gentle this is without sulfates. I also like how it will suds slightly if you use 3 pumps. I leave it on a little bit while I'm in the shower or at night time to allow the 2% BHA to penetrate. It has really cleared up my skin, which I didn't think a wash off product could do! Dermatologist Recommend
My dermatologist recommend this product to me to help keep my pores clear. Especially the pores on my nose. Works great with 2% benzoyl peroxide. Absolutely no irritation with daily use of this product. LovelySkin Customer
Verified Purchase
Very good
My daughter is using this and loves how her skin feels. brightparadise
Verified Purchase
Must have!
I have suffered with acne since 2007 after having twins. I have tried so many cleansers and it's a struggle to find the right balance between taking care of acne but not being overly dry. This does the trick perfectly!! It takes care of my acne and at the same time they glycolic removes the dead skin cells! My 15 year old son has the same problem and I ordered it for him also! It will be hard to top this cleanser. My son loves this product
My teen son gets breakouts, and we have searched and searched for a product to control his acne. Glytone Acne Clearing Cleanser is the real deal; his acne is under control due to this cleanser. He uses this once in the morning and once at night. We cannot be without this product. Thank you, Glytone! LovelySkin Customer
Verified Purchase
Glytone Acne Treatment Spray
Glytone is always a winner. Love their products. Helps to reduce breakouts for my son. LovelySkin Customer
Verified Purchase
Great Product
My daughter loves this because, although a bit drying, it clears her skin up. LovelySkin Customer
Verified Purchase
Gentle, yet effective
I really like this cleanser. I use this in the evening to ensure that my face is fully "clean" before applying my night routine! I get that clean feeling without feeling stripped. Has a very pleasant smell! On a side note, it is very liquidy so be careful when using. LovelySkin Customer
Verified Purchase
Great product!
My 15-year-old daughter has used this to combat mild acne for over a year and she always gets compliments about how beautiful her skin looks. As opposed to her older sister (who isn't as diligent in using this particular face wash), my middle daughter has never had to go to the dermatologist for acne issues (knock on wood!). Just be aware that this can be very drying. For this reason, my daughter will sometimes only use it once a day followed by a very mild moisturizer. LovelySkin Customer
Verified Purchase
good!
Good bha cleanser, consistency is a bit thin but it does the job. Non-drying and keeps my oily skin clear. LovelySkin Customer
Verified Purchase
Favorite cleanser
This is my top cleanser--Ive got dry but acne-prone skin and this has done wonders! LovelySkin Customer
Verified Purchase
Love it!
I'm oily, this is the best Glytone cleanser! LovelySkin Customer
Verified Purchase