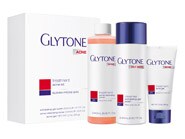 Reviews For
Glytone Acne Kit
5 Results
Awesome
I bought this for my teenage son. He loves it. This product works great and is easy for him to use. Not as expected
I was really excited to use the Glytone kit after all the positive reviews, but I was very disappointed with the results. I have suffered with acne since a teen and now in my 30s still get breakouts. Even after 3 weeks of using this product I broke out even more and it really dried out my skin. After I stopped using the kit and switched to another product my skin cleared up immediately LovelySkin Customer
Verified Purchase
Cleared my BACK within days!
First off I am 30, with two small kids and an avid athlete so since my kids (hormones) and sweating on long runs/workouts (yuck) I have had this hormonal "backne." Gross, I know. It is embarrassing and it makes me feel uncomfortable and not wanting to wear certain clothes. Well, I use Glytone daily cleanse on my face as recommended by my aestitician(sp?) and it has been perfect but still needed something for my back breakouts. THIS IS IT!! I ordered it and recieved it so quickly and followed the instuctions on how much and how often to use. ONLY USING IT ON MY ARMS AND BACK...AND WITHIN 3 DAYS MY ALL WAS CLEAR! Ready to wear my lower cut back dress to a wedding this weekend! I seriously love this product and this whole line. I will say if you are in sun a lot you need to use the Glytone daily spf 40 sunscreen if you are going to be using this. Well you should really wear sunscreen every day, I actually use that one as my mouisturizer every day and it is great too. Thank you for selling Glytone!!! LovelySkin Customer
Verified Purchase
Glytone is good
I love it. It works for me. It clears the acne fast. Even when I do not have acne, I use the cleanser and toner everyday to keep my face clean. LovelySkin Customer
Verified Purchase
Adult Acne!
I was told to use this product from a dermatologist and I was purchasing it from them for much more $ then what I found it on this site. I love that I get free shipping and get the product in a few days and they always give me a few samples of other products. LovelySkin Customer
Verified Purchase