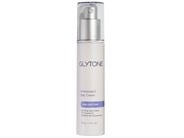 Reviews For
Glytone Age-Defying Antioxidant Day Cream
$92.00
Part of my Daily Routine
My dermatologist recommended this years ago. I love it! It plumps my skin, smoothes out small wrinkles, and prevents others. A wonderful way to maintain my skin's vitality. LovelySkin Customer
Verified Purchase
Love this cream
This cream is non-greasy and makes my skin feel wonderful. I recommend it and would purchase it again. Mwhitac
Verified Purchase
Antioxidant day cream
I like the texture of this cream. Skin feels very hydrated. I did find that it is a bit tacky at first and needs some time (8-10 minutes) to absorb completely before applying foundation. Once it is absorbed, skin feel plump and soft. LovelySkin Customer
Verified Purchase
Glytone Age Defying Antioxidant day cream
This product is wonderful, makes my skin soft, fights wrinkles. I use it everyday since my Dr. recommended it about 20 years ago. I use the 6.0. Always stay out of sun, even if you use sunscreen. LovelySkin Customer
Verified Purchase
Glytone Improve Cream enforces the results of the Glytone antioxidant prevent serum.
My dermatologist first recommended I use the Glytone antioxidant prevent anti-aging serum. He explained that he and his wife both use the product. I could not believe after just one application how the fine wrinkles on my face softened, were less pronounced or were not visible! He has me apply the serum 2xs daily (am-pm) to damp skin-never dry. I have now added the Glytone Antioxidant Improve Anti-Aging Cream in which I apply right after the serum. The cream enhances the results from the serum. The outcome is remarkable. I think you will be very pleased when you look in the mirror after using these products. Energy for your face
After application, this product is so full of antioxidants you can actually see your skin plump up with a healthy glow. LovelySkin Customer
Verified Purchase
Perfect under makeup
This is one of the best products for under foundation combined with other Glytone products. LovelySkin Customer
Verified Purchase