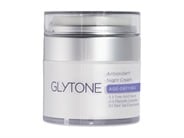 Reviews For
Glytone Age-Defying Antioxidant Night Cream
$92.00
26 Results
Keep using every night
I like how my skin feels in the morning smooth and fresh. I using every night on the top of my another product. It controls my mixed skin and my pores are cleaner.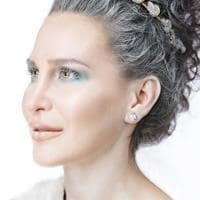 Glycolic acid overnight cream
I received a sample of this in one of my purchases and decided to buy a full size bottle. I like the packaging as all I do is press the top of the cap and a dose of cream dispenses. The cream is soft, thick and once initially applied I felt a tingling sensation. In the morning I use a wash rag to remove the cream and dead skin cells. I use it a few times a week. I have used in for 2 months now and noticed my skin is clearer and brighter. Jodi1980
Verified Purchase
Really Agrees With My Skin
This rich, non-greasy Glytone cream really agrees with my skin and I'm very happy to have discovered this product. I have acne prone skin and I'm in my mid to late 30s. This cream is great for diminishing acne and acne-related hyperpigmentation. It's also great for promoting cell turnover, which is helping to prevent the formation of lines and wrinkles. I only use this product about 2-3 times per week at most. I give my skin a break from this product to allow my skin to regenerate. It can cause slight redness, but that just attests to the fact this product WORKS! The dispenser is very interesting, you push down on the top and the product dispenses so you can wipe it off with your finger. Very unusual and unique way to dispense. Gly-tone anti-aging cream
I have enjoyed using this product for many years. One jar lasts a month. Part of my Nightly Routine.
My dermatologist recommended this years ago. I use it at night. It helps my skin glow. I get lots of compliments, and people ask what I use on my skin. It helps my skin look 10 years younger! LovelySkin Customer
Verified Purchase
Great Night Cream
I purchased this after trying the sample. I love how it seems to renew my skin overnight. It's exfoliation and moisturizer packed into one product. LovelySkin Customer
Verified Purchase
It's okay.
I'm not sure what this is suppose to do because I have not seen any improvement. It keeps my skin hydrated which is a good thing but if you have oily skin like me then you might not want this because it's a thick cream. Pretty heavy and not worth the price! LovelySkin Customer
Verified Purchase
Age defying antioxidant night cream
I've received and used the Night cream for approximately a month now and am very pleased with the softness of my skin and I seem to have a more youthful look, Thank you Glytone! LovelySkin Customer
Verified Purchase
Burns
I have dry skin, and this cream makes my skin feel drier and burns. Love Glytone products
Just started using the antioxidant cream, love how it feels and the pump action on the jar is a fantastic way to dispense the product. Too early yet to report any positive results but the this product is not greasy and feels great! LovelySkin Customer
Verified Purchase
Glowing with Glytone
You really do get what you pay for. This is my fourth purchase of this anti-aging night cream, and it works well. The morning after use, you can actually see that dead skin cells are sloughed off, and skin looks smooth and glowing. Glytone's ingredients are effective, and they make an excellent product. LovelySkin Customer
Verified Purchase
Underwhelmed
I was very excited to try this product after receiving a sample with my LovelySkin order. First time use, it tingled a bit and I woke up with nice results. After using it for over 6 months, I feel a bit underwhelmed...no tingle, no noticeable difference in fine lines or wrinkles. I even tried rotating it in with other products, but, still no results. Definitely not wasting my money on this again!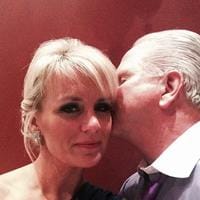 Wonderful night cream.
I have combination skin and I like this night cream because it is not greasy like many I have tried. It absorbs quickly. Slight tingling when you first use product . My skin looks refresh in the morning. Skin feels soft. It is a bit expensive, so I use it sparingly. Dianned
Verified Purchase
Can't Do Without...
This is by far the best night cream that I have ever used in conjunction with my glycolic serum in order to combat oiliness and pores. These two products together leaves my skin looking tone, brighten, oil-free and supple. Love this!
Glytone Age-Defying Antioxidant cream was a product I chose as a sample when purchasing another product. After the first application I knew it needed to become part of my ''arsenal''. I love it. My skin is smoother, softer and I like knowing that I am treating my face with such a quality product. LovelySkin Customer
Verified Purchase
Great night cream
I have been looking for a night cream that I would like. After receiving a sample, I decided to purchase the full size. Though I don't think any cream can improve firmness this cream definately improved the texture of my skin. My skin is very silky smooth and looks it. I am very happy with this product. LovelySkin Customer
Verified Purchase
Huge skin improvement!
This product does everything it claims! I'm very satisfied and will continue to use this. My skin looks so much better than it ever has. Thank you! LovelySkin Customer
Verified Purchase
Excellent product
I didnt get the serum, but this cream is lovely anyway. my skin is firmer and moisturized without breaking out or feeling "clogged". LovelySkin Customer
Verified Purchase
Glytone Night Cream
I just received this product so am not able to completely judge its effectiveness. However, I will say that I have used Glytone Essentials Rejuvenate Overnight Cream and have liked that very much. It seemed to "tingle" more than the Glytone antioxidant renew antiaging night cream. But only more time will tell. LovelySkin Customer
Verified Purchase
Glytone Anti-aging Night Cream
I have been using this Anti-aging product line for about a year. It was suggested that I use it from my dermatologist. I love this night cream. It is so smooth, goes on feeling light and easily rubs in. You wake up in the morning with dewy fresh skin....no heavy feeling like some night creams. I would recommend the entire Glytone anti-aging line to anyone wanting to look and feel younger! I am 60, but no one ever believes I'm 60!! LovelySkin Customer
Verified Purchase
GLYTONE ANTIOXIDANT RENEW ANTI-AGING NIGHT CREAM
Love this stuff!. I have been using this product for about a year as recommended by my dermatologist. Seems to help with fine wrinkles. I have not found anything better. LovelySkin Customer
Verified Purchase
Love Glytone Products
I have been using Glytone for 2 years and love the product line. They are very hydrating and help immensely with fine lines. Non irritating and good for my sensitive skin. I see a difference and will continue to buy. Glytone Antioxidant Anti-Aging Night Cream
Have only used it for a week - no irritation so far. LovelySkin Customer
Verified Purchase
I can feel it working..
...but also need to combine it with the other product for maximum impact. LovelySkin Customer
Verified Purchase
Great product
This seems to be an excellent product. I am using it cautiously because of my extremely sensitive skin. So far so good! I am using it every other night to start, and no problems! Thank you for the opportunity to try it! LovelySkin Customer
Verified Purchase