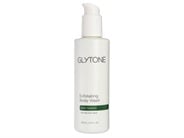 Reviews For
Glytone Exfoliating Body Wash
$33.00
69 Results
Seems fine
Not sure if I see any difference. Also, a bit annoyed that this liquid is quite viscous and does not pump out of the bottle any more. I have to open and shake out a quarter sized handful. LovelySkin Customer
Verified Purchase
Amazing!
This body wash is fantastic! Helps with my bumpy skin and once I follow up with the lotion, it make the bumps smoother. Amazing!!!
An amazing body wash. Helps a lot with dry skin and if you suffer from breakouts on your shoulders!! LovelySkin Customer
Verified Purchase
Great for body acne and scarring
I use this once a week for my acne scars on my shoulders and chest. Makes me skin feel smith and lightens my dark marks from blemishes. Even clears black heads from my shoulders. LovelySkin Customer
Verified Purchase
Effective with first use!
I bought this as a general exfoliation because I was experiencing bumpy skin on my arms. The difference in my skin after the first use was astounding and has continued to show improvement with each use. It has a very fresh smell that I also like. SurpriseNancy
Verified Purchase
Gentle exfoliate
I just started using this exfoliator about three weeks, I really like how gentle it is. At first I couldn't tell if it was working the first few times using it. After the few times of using it I could really see the difference in the texture of my skin. LovelySkin Customer
Verified Purchase
Would definitely buy again
I really like this product. I have very dry skin and this does a great job of gently exfoliating it so my moisturizer absorbs better. I place a few pumps on a shower pouf and it lathers up amazingly. It makes your skin so soft! And I like that it doesn't have a strong smell. So glad I tried this product. SammyLou
Verified Purchase
Glytone Exfoliating Body Wash
Great product to keep skin looking fresh and get rid of flakiness. I have used it for years. LovelySkin Customer
Verified Purchase
Excellent!
I have used this product for years. I use it in the shower once a week to exfoliate my whole body. It makes my skin feel so smooth. My one complaint is that when Glytone did their package redesign, they used a different pump with a TINY opening. It doesn't work after a while, in spite of the fact that they made this product thinner. I wish they would bring back the old flip tops. Otherwise, I am happy with it. LovelySkin Customer
Verified Purchase
Gentle but Effective
I have purchased this body wash over and over again because it does the job! My skin is soft and smooth with weekly use. It's gentle enough for my sensitive skin and does not irritate at all. Moonchild630
Verified Purchase
Smooth Skin
I love this. I had heard about this from a beauty vlogger and thought I'd give it a try. I was starting to show signs of creepiness on my arms and legs. I wasn't expecting much since body washes don't stay on your skin very long. I've been using for about 3 weeks with noticeable improvement. My husband keeps remarking how soft my skin is, but the best thing is that I'm not noticing the creepiness! I have sensitive skin and have not had any rashes or inflammation (which I often get when trying new products). Holy Grail!
I have been suffering with in-grown bumps and marks on my entire legs cant wear any shorts or dresses. My dermatologist suggested this and now I barely have any in-grows and marks are getting lighter. I will continue this product for my entire life now. LovelySkin Customer
Verified Purchase
Use regularly during winter
This really helps skin stay soft and itch free during winter months. LovelySkin Customer
Verified Purchase
Great for breakouts and kp
Great for back and chest breakouts. I also use on my arms and thighs where I have KP. Works great and doesn't dry my skin out. Drhawkins
Verified Purchase
Um yes please
Love love love this. Use it when I break out due to my sports bra or slather it on my legs for some nice exfoliation. Haven't tried the lotion yet, but I'm sure it's great. This has become a staple in my shower routine for sure!! Great Body Wash
It makes the skin softer and enhances other products' efficiency. I highly recommend. LovelySkin Customer
Verified Purchase
Repeat Purchase
This is the only product that has successfully kept my bacne in check. I make sure I have it stocked in my bath regularly. LovelySkin Customer
Verified Purchase
A must for bumpy skin
This combined with an exfoliating cloth makes bumpy patches disappear over time, not immediately. I have removed two with three more to go. LovelySkin Customer
Verified Purchase
A good choice for body renewing.
A must have during every shower to revitalize the body! LovelySkin Customer
Verified Purchase
Helps with tiny dry bumps
I have purchased this several times now as I feel it helps exfoliate and smooth out the tiny dry bumps I sometimes notice on the back of arms and legs. I use this in combination with their cream and it works. LovelySkin Customer
Verified Purchase
Decent
It helps a little bit with KP bumps on my arms. It makes my skin somewhat smooth, but honestly isn't a miracle product. Will keep using to see if it gets even better. I've been using a glycolic acid serum some days to complement this wash, and it's helping too LovelySkin Customer
Verified Purchase
Sensitive skin gurl!!!
This product is gentle and a small amount goes a long way. My dermatologist said I should use products with glycolic acid, which are pretty easy to find in a facial wash but much harder to find in a shower wash. The size makes it perfect for traveling. I have had great luck with every product I've ordered from LovelySkin. Quality and fast service. LovelySkin Customer
Verified Purchase
They removed the gallate!
Now I can use this again! So happy to see this new change! LovelySkin Customer
Verified Purchase
Staple
I've been using this nightly with my clarisonic over a decade, and it keeps me smooth and pimple free from head to toe. Additionally, there is not one wrinkle anywhere on my body! will always buy LovelySkin Customer
Verified Purchase
Minimized Some Bumps
The Glytone Exfoliating Body Wash did minimize some bumps, but they are not completely gone. I still have some which is most likely due to the water and weather here in Nevada. The bottle could use improving, as it leaked out during shipping. ChrisLove
Verified Purchase