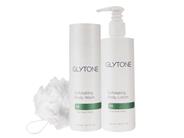 Write a Review - Receive 50 Rewards Points!
Tell us your thoughts about Glytone KP Kit so we can help you find the right products. With your review, you'll also receive 50 Rewards Points. Please note that it may take up to 72 hours for a review to appear on site. All reviews are subject to moderator approval.
Write a Review
25 Results
This product has changed my skin
I am using this system daily for an anti-aging routine for my skin. Since I have started using this system, about two months now, I have really experienced a change for the better in the texture and appearance of my skin on my legs, arms, and shoulders. I would highly recommend!
Glytone KP Kit
I absolutely love the kit!!! With a week of using the product, my skin not only looked better but feels like silk!! I highly recommend this product!!!
Good for everyone
I don't have KP but use this product to stay smooth and exfoliated between my regular shower products. I use it a couple of days a week, and it keeps my skin smooth and soft.
Really good stuff!
I really like the Glytone KP Kit. I've recently purchased my second kit. I have noticed a definitely difference in the texture of my skin since using it. Much softer than before (I have dry skin). My problem is, I don't use it on a daily basis like I should. Other than that, I have no complaints.
I pretty much love this stuff
I have terrible skin, and I've had KP for as long as I can remember. It's on my thighs, on my arms, on my knees, everywhere. This product makes me so soft and smooth. I use it almost daily, and I notice a huge difference when I stop. It even helps cut down on ingrown hairs when I'm shaving, if you can believe that. The only problem is that to get the full effect I have to use the body wash in combination with the lotion, and I don't always have time (or remember) to use the lotion. The body wash isn't quite strong enough on its own. Also, the formula seems a little unpredictable. Sometimes it's more effective than at other times. But maybe that's just my own stupid skin. Either way, this stuff always works great, and I plan to keep buying it.
Wow! This really does help with barnacles.
Around age 58 or so I started getting these scaly gray lesions. Off to the Dermatologist I went. She zapped them...ouch. Then I got more.....back to Dermatologist. Zapped again. This time more pain and dark scarring...grrrr..... Thought there must be a better way of dealing with them. Several sites recommended Glytone Exfoliating Wash & Lotion and since lovelyskin.com was the site my Dermatologist referred to me I ordered. Wow! My only complaint - bigger bottles please. I can't imagine my bathing routine without these products. Thank you Glytone!
Glytone never dissappoints
My go to for almost 5 years now, for anti-aging! Use the cleanser all over, and the exfoliating lotion immediately after combined with coconut oil. unbelievable!
works!!
My dermatologist originally recommended this for the foliculitus type issues I was having on my arms. I didn't even know there was lotion until I found this kit on LovelySkin and am so pleased. My "chicken skin" on my arms has really improved and I am thrilled about it.
Does not Work for Me
I've used this for a couple months now on my upper arms and don't see how it's helping. It might look worse actually.
Worth a try
I've been using the wash daily on my arms for a few weeks now and I can tell a noticeable difference. The bumps are minimized and my skin feels much smoother. It only takes a dime size amount to get a good lather when I use the sponge. The lotion however is really thick, yet moisturizing, but I'm not sure if I truly like it yet. However I do like that this comes as a set and the price point. I would definitely purchase it again.
Regular purchase for winter skin
Really helps with the dry/flaky feeling of winter skin. Regular part of my seasonal routine.
Great for my KP!
My KP has caused me self-esteem issues for years since its on my arms. At 37, Ive finally found something that helps with those little bumps on my arms and shoulders. Its by no means a cure, but it definitely has made a difference. Im finally looking forward to wearing tank tops and short sleeves next summer. I will say Ive not been using this system for very long or have gotten used to adding it to my shower routine, but it always takes time to change the way I do things...I have a step-by-step system for the shower that needs to be adjusted for this wonderful product:-)
Love this product
The first time I tried this product I was not impressed. but i decided to give it another chance and now I love it and it has become a staple. This combination keeps my skin smooth and I would truly recommend it.
Love this for Soft Skin
This kit is the perfect solution for eliminating dry scaly skin on your legs, elbows, knees and feet. It leaves your skin feeling soft and clean. I absolutely love the body wash and lotion.
Glytone KP Kit
For the most part this combo seems to work pretty well. I do have a couple stubborn spots that have improved but are not completely eliminated. It could just be that I need to give it a little more time. (Ive only been using the products for two weeks.) I absolutely LOVE the smell of the body wash -- its a very clean "doctors office" kind of scent.
The ONLY product that really works
Ive been fighting my chicken skin since college and this is the first product that actually makes the bumps and redness go away! Its super thick and sticky and burns when you first put it on, but thats a small price to pay for the results I achieve. I use this on the backs of my arms and legs and I see the improvement in both areas. This is my first time using the body wash and after two weeks I dont notice a dramatic difference, but again, I see amazing results with the lotion so its hard to isolate the performance of just the wash. I also wanted to mention that when I first received this lotion from Lovely Skin, the pump on the lotion bottle was broken. When I contacted customer service, they said they couldnt send just a replacements pump, but they put an entirely new bottle of lotion in the mail the next day! They gave me pre-paid postage sticker to send back the one that was broken too. They were extremely responsive and willing to fix my problem!
Best product for "chicken skin"
I have suffered from that annoying "chicken skin", (medically known as Keratosis Pilaris) for many years, and nothing I have used before has helped like these products. The body wash has a fresh and light scent and lathers beautifully. You only need a small amount so it lasts a long time. I makes your body feel like silk. Used in combination with the body lotion my skin has fully cleared and is soft and smooth ready for summer. I couldnt be more thrilled!
Solves my KP problem
Ive had keratosis pilaris my entire life and have finally found a project to help. I recommend it to anyone with this annoying skin issue!
It works!
It does what it claims for. But if you have sensitive skin, you may have to more careful to use it. It's pretty strong stuff.
not for me
unfortunately for me the products themselves prevented me from their potential benefits. I really didn't like the way the body wash smelled or the thick feeling on my skin after putting the lotion on.
sun damage
my derm recommended this for my severe sun damage. it is peeling away damaged skin revealing new skin.best thig have ever used.
Muriel's opinion
So far this is the only product that I have found for solving the problem of my Keratosis Pilaris. But most of all I really appreciate the way my order was taken and the cash savings I received. This order was done by phone as I was having computer problems. I think the phone process was easier than by computer.
very good product
these products provide quick results and are easy to use.
Great product!
This product really works! I am very pleased with the results. It gets rid of the keratosis on my arms very quickly.
Just Brilliant
This is no fake review, I was just logging in to order another one of these, its excellent and makes my skin lovely and soft. I dont have KP but I still use this product as it also prevents ingrowing hairs especially after epilating.