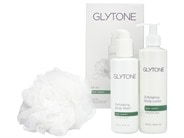 Reviews For
Glytone KP Kit
$68.00
Got rid of all the little bumps!
I thought it would be a little harsh for my sensitive skin with both the wash and the lotion but it wasn't. Got rid of all the little bumps on my legs and chest within a month. Use 2-3 times a week. Will buy again. LovelySkin Customer
Verified Purchase
Really works
I noticed a change in the smoothness of my skin after 3 days of daily use of the wash and lotion combo. The lotion is quite thick and can sting if you've just shaved or have any cuts. It is an acid after all. Smooth skin priceless. I will continue to use. Skin tone and texture improved!
I have had this kit for about 4 weeks now and really see an improvement in my skins overall tone and texture. I have very dry skin that had a lot of rough patches, and this has really helped. The lotion is very thick, so a little goes a long way. I only use the body wash a couple of times a week as my skin is very sensitive and don't want to over do. Would highly recommend. LovelySkin Customer
Verified Purchase
Light weight and exfoliates the skin
Love this, This wash helps with the little bumps on my shoulders It contains glycolic acid to exfoliate the skin which helps to clear up any clogged pores. LovelySkin Customer
Verified Purchase
Love this kit!
Love both the body lotion and body wash - a great combo to help combat my dry skin. LovelySkin Customer
Verified Purchase
Enjoying results so far
I purchased this kit after reading a few blog posts from LovelySkin about the different types of eczema (the blog posts are super helpful by the way). The body wash is great, and the lotion is good too, but super thick and sort of sticky which I would honestly rather have compared to some of the eczema products I have tried previously. Most lotions targeting eczema are thin and watery which does not work for me. I have seen improvements slowly but surely and I am looking forward to continuing this routine. LovelySkin Customer
Verified Purchase
adequate
This set exfoliates well but the texture is somewhat thick and difficult to dispense. Lotion makes skin softer, though. Works okay but didn't fix redness / bumps entirely
This worked okay. I used the cleanser/poof and lotion for months before my wedding last year. After trying this product I realize that my bumpy and red upper arms are just here to stay. When I show my upper arms I usually wear a body makeup because I hate the blotchy redness. I love Dermablend Leg and Body makeup. I probably won't buy this again and still have some left that I use occasionally and for leg exfoliation. LovelySkin Customer
Verified Purchase
Great for bumps!
I have rough and bumpy skin on the backs of my arms and this set worked wonders for it! LovelySkin Customer
Verified Purchase
This is EVERTHING!
My legs and my body overall is so soft. Will not use anything else. I see a difference within a week to two weeks! LovelySkin Customer
Verified Purchase
Glycolic Acid is Strong Stuff!
Be VERY careful as this is not your normal lotion. It caused a major red, bumpy burn type rash on my chest and lower legs! It was great, and in fact, I loved it for the first 4-5 days until I developed a horrible reaction. In retrospect, I would "water it down" with another non-glycolic acid lotion on sensitive areas such as the chest and lower legs until your skin becomes more use to it. I have never had sensitive skin, so I wasn't too concerned. Perhaps, as I'm older now (63) things are changing! Hands, arms, elbows and upper legs still seem fine. LovelySkin Customer
Verified Purchase
Fantastic products
I've been using glytone products for years. This body wash and lotion works! My skin is so soft, it's clearing up my sun spots and helps with crepey skin. The product will sting a bit but well worth it. LovelySkin Customer
Verified Purchase
Great!
The lotion absorbs quickly and does not feel greasy, does not sting. The body wash is moisturizing, lathers well and also does not sting. Very impressed by these products and will repurchase. Impressed! A mild bacne solution!
I've struggled with bacne from regular, sweaty workouts at the gym and peri-menopausal hormone issues. With diligent use, I believe that I have found a solution. My only regret is that I looked for a silver bullet. My dermatologist recommended these products years ago, and I neglected to use them because they require a daily commitment. Back on the wagon! LovelySkin Customer
Verified Purchase
Smoothest skin!
My skin feels so good after I used this product. I am more sensitive to the sun when I use it so I dial back if I know I'm going to be in the sun a lot. I initially bought this product to help with little bumps I have on back of my legs. When I use the product consistently, I do notice an improvement. LovelySkin Customer
Verified Purchase
I Will Buy Again
I'm not going to write a long review, just the most important part. The product works. I would recommend and do intend to buy again. My skin feels soft again. Extremely happy with the results. LovelySkin Customer
Verified Purchase
Helps my bumps
I have pretty bad KP on the back of my arms and on my thighs as well as being very prone to ingrown hairs. While this product is no means a miracle product, it definitely helps smooth out my KP better than other products I have tried. I was skeptical that a body wash that's only on for such a short time would make a difference, but the two products combined seemed to work pretty well. The lotion does sting a little bit when I first put it on but there is no irritation, and it makes me think it's working. LovelySkin Customer
Verified Purchase
Works Wonders!
Wish I would have known about this product years ago! I've been using it for a few weeks, and I'm already noticing a huge difference. No more bumps! LovelySkin Customer
Verified Purchase
Works for those little bumps
Originally got a sample of the wash through a beauty box. I was amazed that it actually helped with the little bumps that I have on my upper arms and thighs. Because of that I tried this set which also comes with the Lotion and the poof. It's the only thing that has ever made a difference in the bumps. Even physical exfoliation didn't make a difference. Regular body Lotion did not make a difference. I can only assume that the glycolic acid is what helps the bumps for me. I think it's worth paying the money for this product because it actually works! LovelySkin Customer
Verified Purchase
Addicted!!!
Amazing product! Great for softening skin and ridding of brown spots. The product stings a bit when applied especially the first few times. Gets better. The scent of the cleansing wash is great. The effect is better. Highly recommend. My daughter who has ingrown hairs on the back of her legs and has seen results in a week. LovelySkin Customer
Verified Purchase
This product has changed my skin
I am using this system daily for an anti-aging routine for my skin. Since I have started using this system, about two months now, I have really experienced a change for the better in the texture and appearance of my skin on my legs, arms, and shoulders. I would highly recommend! LovelySkin Customer
Verified Purchase
Glytone KP Kit
I absolutely love the kit!!! With a week of using the product, my skin not only looked better but feels like silk!! I highly recommend this product!!! LovelySkin Customer
Verified Purchase
Good for everyone
I don't have KP but use this product to stay smooth and exfoliated between my regular shower products. I use it a couple of days a week, and it keeps my skin smooth and soft. LovelySkin Customer
Verified Purchase
Really good stuff!
I really like the Glytone KP Kit. I've recently purchased my second kit. I have noticed a definitely difference in the texture of my skin since using it. Much softer than before (I have dry skin). My problem is, I don't use it on a daily basis like I should. Other than that, I have no complaints. LovelySkin Customer
Verified Purchase
I pretty much love this stuff
I have terrible skin, and I've had KP for as long as I can remember. It's on my thighs, on my arms, on my knees, everywhere. This product makes me so soft and smooth. I use it almost daily, and I notice a huge difference when I stop. It even helps cut down on ingrown hairs when I'm shaving, if you can believe that. The only problem is that to get the full effect I have to use the body wash in combination with the lotion, and I don't always have time (or remember) to use the lotion. The body wash isn't quite strong enough on its own. Also, the formula seems a little unpredictable. Sometimes it's more effective than at other times. But maybe that's just my own stupid skin. Either way, this stuff always works great, and I plan to keep buying it. LovelySkin Customer
Verified Purchase