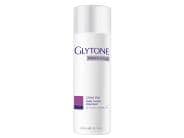 Reviews For
Glytone Essentials Cleanse Daily Facial Cleanser
8 Results
Wonderful!
I really like how this make the skin feel. You can tell the ingredients are working. It also removes make up very well. It is a little drying however, I am anticipating this will decrease over time. It smells just fine and it is a generous quantity given the price. LovelySkin Customer
Verified Purchase
wonderful
I received a full size of this with a purchase. Absolutely love it. Does not foam, but does clean very well. Will purchase again. Gentle on skin, non foaming
This cleanser was a surprise to me because it does not lather or foam at all. it took a little getting used to and I think I use alot of product at first because I was waiting for a soapy type of reaction. I associate clean with bubbles! Bubbles are not needed in this case I guess and it feels a bit like applying cream to your skin or maybe like the new style of oil cleansers. I massage it into my skin for a bit and it washes away pretty easy, leaves my skin soft and fresh feeling. There is a light chemical like scent, not floral or anything. I experienced no burning or peeling and it removed my eye makeup without the burning that others experienced. Overall I like the product, but prefer something that foams. I think someone with dryer skin would find this comforting. LovelySkin Customer
Verified Purchase
very good for aging combination skin
I've used this for 4 years on recommendation by my dermatologist. It definately makes your skin look better, but need to use atleast twice a day. LovelySkin Customer
Verified Purchase
Great results!
Love the results although not a fan of the smell of this product. LovelySkin Customer
Verified Purchase
Great Product
Product does a good job cleansing and is a good product to include with you Glytone line. My only complaint is that it tends to sting my eyes - especially when trying to remove mascara. Otherwise this is a great product that does what it promises. LovelySkin Customer
Verified Purchase
Use this relidiously
I would have never known about it until I went to an aestetician (sp?) at my doctors office and she recommended I try it. I swear by it and being that I am 30 I am trying to cleanse and clear my hormonal post babies skin AND anti-age it as well, this is the best I have found and not a bad price. And it lasts a long time, a little goes a long way. I personally use the Glytone Daily Spf 40 sunscreen as my mouisturizer daily as well and am obsessed with it. LOVE GLYTONE! LovelySkin Customer
Verified Purchase
Cleared
Reduced sun spots and any bumps that were under skin. Best I have ever used for my face LovelySkin Customer
Verified Purchase