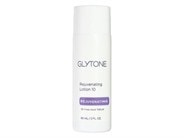 Reviews For
Glytone Rejuvenating Lotion 10
$50.00
7 Results
Buy for my Sons
I buy this for my 30 year old sons. It helps their skin keep an even skin tone and prevents breakouts. Orangecloud
Verified Purchase
Glytone
I want to incorporate glycolic in my regimen and this would be a good start. I like that it's not a serum but a lotion. Plus, it's a moisturizer as well which is a step I can skip. Will begin with 10 and hopefully I can step up to 20. LovelySkin Customer
Verified Purchase
Excellent
I use this during the day and the exfoliating lotion #11 at night, and my skin is much smoother and clearer. LovelySkin Customer
Verified Purchase
Clear skin fast
Excellent product for glowing clear skin. Helps minimize breakouts and even out skin texture in couple of weeks LovelySkin Customer
Verified Purchase
Only thing that works for me
...and I have heard that Glytone has discontinued it. That makes me sad. Im one of those customers who finds something and STICKS with it. This moisturizer gives me just the right amount of moisture and does not clog pores while keeping my middle-aged acne at bay. It seems a tiny bit greasy after you first apply it, but be patient because that goes away within minutes. Its the perfect balance for my breakout prone skin. LovelySkin Customer
Verified Purchase
Great for Razor Bumps
I have been using this for a little over 2 months and in that time I have seen a remarkable change in the texture of my skin. My skin is a lot smoother and softer than it used to be and it helped to fade a few acne scars that I have, although they're not gone they are lighter than they were two months ago. Also if you're a guy who gets razor bumps when you shave I highly recommend this product, although it does sting a little if you use it after you shave, it' s worth it. I can now shave without worrying about razor bumps and if I do get a few within a day or two they're completely gone. LovelySkin Customer
Verified Purchase
great antiaging product!
I have been using this lotion since January of 2008. I have seen dramatic changes in my face skin such as pore size reduction, and better skin appearance. Because of these benefits, I decided to start this month with facial lotion 2. My supervisor asked me today which skin care line I have been using. She could not believe the prices and the great results in seven months. I recommend to start with level one if you have sensitive skin like me. LovelySkin Customer
Verified Purchase