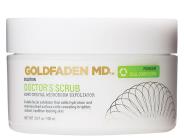 Write a Review - Receive 50 Rewards Points!
Tell us your thoughts about GOLDFADEN MD Doctor's Scrub - Ruby Crystal Microderm Exfoliator so we can help you find the right products. With your review, you'll also receive 50 Rewards Points. Please note that it may take up to 72 hours for a review to appear on site. All reviews are subject to moderator approval.
Write a Review
18 Results
GOLDFADEN MD Doctor''s Scrub - Ruby Crystal Microderm Exfoliator
Received a sample of this and fell in love with it. So, I ordered. I realize I should have noticed how product is packaged, but I didn't. As much as I love the product, I won't order again because packaging does not provide for sanitary usage. Please provide a pump dispenser( or even just a tube) so it can be used easily and cleanly in the shower. DixieBird
Verified Purchase
Amazing Results
I was introduced to Goldfaden MD Doctor's scrub by receiving a sample from LovelySkin. I have large pores and that causes unsightly black heads on my nose. I have used various scrubs both high and low end products with varying degrees of success. However, I am happy to report Goldfaden MD Doctor''s scrub is the best facial scrub I have ever used. It really helps to keep my pores cleaned out and definitely improves the appearance of my skin. The crystals are so small they gently clean out your pores. I am so grateful to LovelySkin for offering this product as a small. If they had not, I might never tried the product. LovelySkin Customer
Verified Purchase
Just ok
This is an expensive scrub. I thought it felt a bit harsh even with light rubbing and left a heavy feeling film on the face after rinsing. LovelySkin Customer
Verified Purchase
Best Facial Scrub!
I use this scrub in the morning. I gently use circular motions and rub all over my face. After I rinse the scrub off, my skin is incredibly smooth and glowing! LovelySkin Customer
Verified Purchase
Never giving it up
Like many here, I was sent a free sample, I got hooked. It's a necessity for me now and I can't see ever going without it. Noticeable difference in how smooth my skin was to the touch immediately with first use. I have NEVER tried anything, especially a sample, that had such noticeable results. I'm a budget shopper and you could have never told me before I'd pay over $15-$30 for a scrub but I'm a loyal customer now. I suffer from hormonal acne and nothing really gets rid of it but this I noticed worked out the little under the skin bumps immediately. I keep it in the shower and use it almost daily. I can't imagine most need it that much but my acne makes it necessary for my routine. Try it, it's great, I've told many of my friends. LovelySkin Customer
Verified Purchase
Works Wonders!
I received a sample from my previous order - I decided to try the sample. I love the results from my first use. I decided to order it. I use this everyday night before going to bed. Since, my first use of this product I noticed I have very minimal acne breakout. Product is a bit pricey but the end result is worth the price. I love LovelySkin products!!! Best exfoliator
I received this scrub as a sample and I had to have it! it feels a bit rough at first, but the granules in this scrub are just super fine and effective! my skin felt so smooth after. Make sure to use lots of water to rinse off because it sticks. try this product you will not regret it and your skin will glow. I would not use this product on open sores or severe acne as it may be too rough. LovelySkin Customer
Verified Purchase
EXCELLENT PRODUCT!
I received a sample and loved it so much that I had to order it. This leaves my skin so soft and smooth preparing it for my moisturizers and creams. I highly recommend this product. LovelySkin Customer
Verified Purchase
Best scrub & gentle too!
I had stayed away from scrubs for years because I felt they were too harsh. Until I found this one!! After reading numerous glowing reviews, I decided to try it and I love it!! It leaves my face fresh and is gentle enough to use daily. A little goes a long way too. LovelySkin Customer
Verified Purchase
Wonderfully clean skin!!!
I have used this scrub for several years...it is very mild yet thorough and leaves my skin feeling very moisturized and soft. LovelySkin Customer
Verified Purchase
Exfoliate well without drying out skin
I love this scrub. It exfoliates very well, but doesn't dry out your skin. Leaves skin with a healthy glow. LovelySkin Customer
Verified Purchase
Amazing!
I tried this for the first time and I was a little surprised at first at how fine the granules are in the scrub. Once I rinsed it off my skin came alive again. It feels so smooth and I don't think I could live without this product! Thank you! LovelySkin Customer
Verified Purchase
Fresh
Skin feels fresh. Use lots of water. LovelySkin Customer
Verified Purchase
Wonderful
This exfoliator is the best. Yes, it feels a little rough at first but my skin is so soft and smooth after I use it. I have tried lots of exfoliators and this one beats them all. Thanks LovelySkin for carrying this brand. Effective Product
I dont love the feel of this on my face (its a little rough feeling) but after I rinse it off, my skin looks and feels smooth and moisturized and my treatment products do seem to be more effective since Ive starting using this exfoliator. You do have to make sure to really rinse well though! LovelySkin Customer
Verified Purchase
Goodbye Winter Skin!
It's like a microdermabrasion treatment in a jar! My skin feels silky smooth after I use it. Exfoliation and hydration makes this a great scrub for the dry winter months.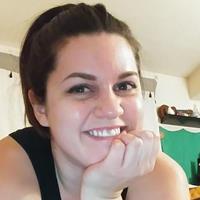 Brittany
LovelySkin Employee
GOLDFADEN MD Doctors Scrub - Ruby Crystal Microderm Exfoliator
This is a good scrub. It has very fine crystals which I like to use. I feel it gives a better feel to the exfoliation. Try it - you will like it! LovelySkin Customer
Verified Purchase
Very Effective Exfoliator
The Goldfaden MD line was unfamiliar to me until a customer service specialist here recommended it to me. I have had an ongoing problem with dry, dull skin that gets a little scaly around my nose in the winter and have been told I have a mild dermatitis. Ive tried several different exfoliators but this by far is the best Ive ever used. It is very finely granulated and feels a little rough - in fact at first I was worried it was too rough. But whatever its made with does no damage and exfoliates brilliantly. Honestly I couldnt believe the improvement after just a few times using it. It has a fresh smell and I also like that its all natural, not animal tested and made in the US. Obviously I highly recommend. LovelySkin Customer
Verified Purchase