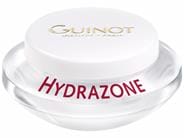 Reviews For
Guinot Hydrazone All Skin Types
$86.00
4 Results
Light moisture
Great moisturizer for all skin types including combination and sensitive skin. Glides on smoothly and sinks right in!! I used it both am and pm. Just be sure you pair it with sun protection during the day. Highly recommended Wonderful All Around Moisturizer
I actually purchase this Guinot Moisturizer for my husband, and he loves it. He has especially dry, sensitive skin and Guinot Hydrazone face creme is of great help in relieving this condition. My husband likes the non-oily, non-greasy consistency of the product and the pleasant fragrance, which is not overpowering. His skin easily absorbs this product which has resulted in softer, less chapped and irritated skin and a diminishing of lines around his eyes and mouth. LovelySkin Customer
Verified Purchase
Pricey for basic ingredients
This is a very moisturizing but not greasy cream that works well as a night cream and doesn't clog my pores. However, I dislike the powdery floral fragrance I much prefer fragrance-free products, since I'm sensitive to fragrance. I also think that this moisturizer is seriously overpriced. If I'm going to pay almost $80 for a skin care product, I expect it to have a proven active ingredient, such as a retinoid, vitamin C, or even peptides, but this cream is just silicones and moisturizing ingredients. I'm sure I can find something similar or better for much less money. Awesome Moisturizer
This moisturizer is awesome and really does make a difference in the appearance, feel and texture of the skin my skin was becoming dehydrated even with my regular day & night creams after 2 weeks of switching to this line I definitely noticed a difference, and you use the same cream day and night which is great, less bottles in the drawer. I have been using it for 6 months now and I do see and feel a difference. I switched to Guinot from another well known brand that I had used since my 20s with age and over time I felt my skin needed a brand change, just like everything else our skin becomes used to everyday routine! Try this product, you will not be disappointed! LovelySkin Customer
Verified Purchase