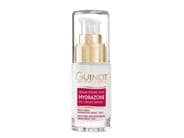 Reviews For
Guinot Hydrazone Yeux Eye Cream Serum
$48.00
11 Results
Fabulous Eye Serum
I've been using this for a week and it readily gets absorbed. No stickiness or residue. I use it alone and under my eye cream. I highly recommend this eye serum. Excellent products by Guinot!! TXBORNTXPROUD
Verified Purchase
Great eye cream
Great eye cream, never irritates. New packaging looks bigger but isn't. I find the new dispenser more slippery, but eye cream is well worth it! Gentle and Soothing
I really like this eye serum. It settles nicely and adds smoothness prior to makeup application. great product
I have been using this product for several years and really like it. It is nice and creamy and keeps the under eye hydrated. LovelySkin Customer
Verified Purchase
Very moisturizing
This eye cream is very light but at the same time very moisturizing. I used to have these lines under my eyes which I think was caused by dryness and made me look older. I tried everything but didn't work. This cream did amazing job by removing those lines and giving me fresh look. Thank you Guinot! LovelySkin Customer
Verified Purchase
Love!
Actually, I am very picky about cosmetics. Yet, I love this eye cream. It is a reasonable price. Works very well. I also want to try other products from Guinot! LovelySkin Customer
Verified Purchase
Light, moisturizing, effective
I have used this eye cream for many years and as a relatively new LovelySkin customer, I was delighted to find that it's sold here as it can be hard to find (Guinot tends to be only sold in skin salons and spas). The cream is very light but does the job very effectively. It does not irritate my sensitive eyes. I don't get raccoon eyes from it, no matter which mascara I use. And the benefits last for most of the day, although if it's a long day, especially during the very dry winter months, I will often re-apply. I use this as my only eye cream and I find it works very well both during the day and at night. I also love that it comes in a pump bottle which is more hygienic, which I think is a big plus since this is going very close to our eyes. My skin type is dry and sensitive and I wear glasses, if any of that is helpful. LovelySkin Customer
Verified Purchase
Guinot Hydrazone Yeux Eye
I have been a long time customer of guinot products and this eye cream has been a top performer for me. I am 67 years old and have few if any wrinkles around the eye area. It is a light weight cream that allows my eye area to stay hydrated and firm. Great product---couldn't live without it! LovelySkin Customer
Verified Purchase
Great Eye Cream!
Another wonderful product from Guinot! I have very sensitive skin and eyes and I always worry that eye cream will "run" during the day and make my eyes burn. This cream however is wonderful- I really do feel hydrated all day and it does not irritate me at all. I can even put it on before working out! As long as they never change it, I'm never going back. LovelySkin Customer
Verified Purchase
good product
I started using it and liked it a lot , my sister tried it and now every birthday i get her a new bottle ! LovelySkin Customer
Verified Purchase
Guinot Hydrazone Eye
This is a very light product that doesn't make my eyes water (most others do). It is reasonably priced, travels well and, if I say so myself, has kept my eyes younger looking. LovelySkin Customer
Verified Purchase