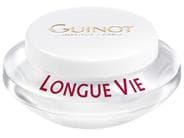 Reviews For
Guinot Creme Longue Vie
$90.00
3 Results
Highly Effective!
I was introduced to Guinot a few months ago and love the product line, so I ordered Longue Vie for it's touted anti-aging benefits. This product certainly delivers! You can feel it activate on you skin within seconds of applying it. I use it at night and wake up to skin that is refreshed, healthy, and younger-looking. This one is a keeper! MandyAlegnani
Verified Purchase
TREASURE IN A JAR!
I took a chance on this product based on so many raving reviews I have found on-line (not just on this site). I thought Id give it a try (without a sample) cuz I, too, like to alternate products every now and then as Ive found that works well for my skin. This cream is soooo fine! What a find! It feels rich, but when massaged onto skin, it just melts right in with no greasy residue whatsoever, and the results are amazing. I dont exactly know how the ingredients work bec. it claims to have so many nutrients in it...all I do care about is that it works far better than I would have thought and truly exceeds my expectations....it is expensive, but I bought 2 jars (BTW, the jar is so cute, like a flying saucer) with 20% off each, so I was completely happy. I plan to stock up on this whenever LovelySkin offers 20-25% off promo. Its well worth the money...grab one & take a chance...I swear you wont be disappointed -) LovelySkin Customer
Verified Purchase
Guinot Longue Vie Cellulaire
I've used this product for several years and love it. It seems rather heavy at first but it melts into your skin with ease. It's also not prohibitive in price! LovelySkin Customer
Verified Purchase