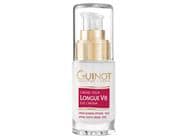 Reviews For
Guinot Longue Vie Yeux Eye-Lifting Cream
$54.00
12 Results
Pleasantly Surprised
I'm always looking for the best product to help diminish the dark circles under my eyes. I hate sticking my fingers in a jar, so this product is wonderful with a pump dispenser and generous size of 15ml. I've only been using this cream for a short time, so it is difficult to say exactly how beneficial it will be long term. However, so far, I really like everything about it and have never been disappointed with Guinot products. LovelySkin Customer
Verified Purchase
Top French Beauty products
Guinot products have been my favorite for about 20 years. This brand is extremely popular in France, and for good reasons: high quality, reliable products, and terrific results. GuinotFan
Verified Purchase
Best eye cream
I had bags under my eyes and they need a little lift to make me look brighter. My cosmetologist recommended this cream for me and I love it. After just a few uses, my skin felt so much healthier and smoother! It also looked much more vibrant! I highly recommend this product! LovelySkin Customer
Verified Purchase
Great eye cream
I love the texture of the eye cream. My favorite eye cream. Tcoleman
Verified Purchase
Very Nice
Moisturizing and smoothing. It does not irritate and works well under makeup. Super nice stuff!!
A very light eye-cream yet very refreshing!! Absorbs quickly and smells wonderful!! LovelySkin Customer
Verified Purchase
Guinot Longue Vie Yeux
I've used this cream for years & love it! LovelySkin Customer
Verified Purchase
Smooth under eyes
Love this under eye cream. I highly recommend using it day and night. I have minimal aging lines. Works well with makeup. It applies easily around eyes. A small amount goes a long way! LovelySkin Customer
Verified Purchase
Caused breakouts
This product moisturizes my eye area well enough, but I dont like the old-lady floral fragrance. However, the real deal-breaker for me was when I began to breakout along my cheek bones and on the bridge of my nose within a week of starting this product. Best eye cream EVER!
Have tried many eye creams and this one still proves to be the best time and time again. I use it to prevent lines, and faithfully use it every night. Provides moisture, yet it not oily and does not leave a residue. Give it a try. You will not regret it! LovelySkin Customer
Verified Purchase
Love this eye cream
Excellent product, great texture and moisture... LovelySkin Customer
Verified Purchase
the best eye cream ever
This is the best I have ever used for my eyes and have been using it for a long time. It lifts and moisturizes at the same time. LovelySkin Customer
Verified Purchase