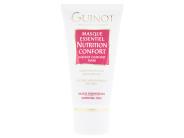 Reviews For
Guinot Masque Essentiel Nutrition Confort Instant Radiance Moisturizing Mask
$44.00
6 Results
Favorite Guinot Product
This mask leaves skin feeling soft and smooth. I use after exfoliating at least twice a week. LovelySkin Customer
Verified Purchase
good but not great
in Winter, I use a repair/moisturizing/nourishing mask just about every evening. I look for a rich formula that will penetrate quickly, repair my skin from the aggression caused by cold, wind, indoor heat. I like to tissue off the excess (when there is any) and apply a night treatment directly on top. Masks are my #1 beauty product. I have used several GUINOT masks in the past, they are not fussy, they are priced right, they do their job. I just tried the Nutrition/Confort formula for the first time this year and while I cannot dispute that it is cocooning and nurturing, I did not enjoy the extra oily residue it left on my skin. I suppose it is part of the concept but it was a little too much for me. If you have super dry skin, it would probably help (GUINOT is a solid line). But if you are after a mask that leave your skin fresh afterwards, this heavy duty formula may be a little too much. LovelySkin Customer
Verified Purchase
LOVE IT
I have just recently purchased this product and only used it twice, but it makes your skin feel wonderful and moist. LovelySkin Customer
Verified Purchase
Marvelous
My aesthetician uses this mask on my skin several months a year. I have just begun to use it at home and it has helped my skin tremendously. LovelySkin Customer
Verified Purchase
Luxury Masque
This masque has a luxury feel and aroma with soothing moisturization, which feels nice in the wintertime. I recommend this mask
I love using masks for my face , i try new ones all the time , this one i have been using for a loooong time ! LovelySkin Customer
Verified Purchase