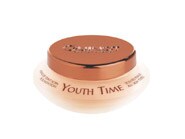 Reviews For
Guinot Youth Time Foundation
$60.00
4 Results
Good Product
Nice, light texture and stays fresh all day long. It is not full coverage though, so if you have scars or acne it will not provide 100% cover. LovelySkin Customer
Verified Purchase
The best foundation
Doesn't give blackheads, breathable, semi-matte, great coverage!!! LovelySkin Customer
Verified Purchase
Lovely Texture, Disappointing Shade
This foundation was lovely to use: light and airy, smooth and hydrating. Unfortunately, even the lightest shade looked orange on my very fair complexion. I also experienced a slight runny nose when wearing this. An allergic reaction to one of the ingredients, perhaps? LovelySkin Customer
Verified Purchase
Another winner from Guinot
Im so glad I took a chance on this. Like in most things, you gotta try it to believe it. I read tons of reviews on Guinot Long Vie Renewal Cream before I purchased it, and now its the only one I would use and plan to stick with for a long to time (Ive tried almost all of whats out there to try, even pricey ones). Hence, I got brave enough to purchase this Youth Time Foundation (#2 is perfect for my Asian skin, not pale nor dark). It feels like putting on a rich (but not oily/greasy at all) and luxurious skin cream with pigments, and voila! it just makes my skin look naturally lovely, smooth, nourished. It doesnt look nor feel like make-up (sans irritation or other unpleasant sensation from make-up, since its actually a skin treatment I fell asleep with it on & hours later when I woke up never experienced itching or untoward effects), just natural healthy, lovely skin. My friends and acquaintances have complimented me left and right since I started using Guinot. This brand is such a wonderful find for me. I truly hope LovelySkin keeps carrying it. LovelySkin Customer
Verified Purchase