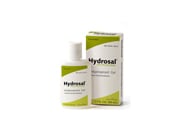 Reviews For
Hydrosal Professional Deodorant/ Antiperspirant
12 Results
Life saver!
I love this product! No complaints. LovelySkin Customer
Verified Purchase
Great product
After dealing with a constant underarm sweating issue for around 8 years I finally decided to try something better than the complete assortment of normal antiperspirants that I had tried over the years. After a little research I settled on Hydrosal and I am glad I did. It worked wonders starting the first time I used it. I will definitely be buying again. Problem solved. LovelySkin Customer
Verified Purchase
Hydrosal Works!
After several years of fighting unarm wetness, I finally found a product that works. And it works well. It starting working the second day I used it. LovelySkin Customer
Verified Purchase
AWESOME
This REALLY does work. I have only used this product for 1 1/2 yrs and nothing else and have no problems with sweating, like I used to. Have recommended to many others, that also swear by this product!!! LovelySkin Customer
Verified Purchase
Great product!
I finally found a product that works! If you have problems with excessive sweating you won't be disappointed with this product! LovelySkin Customer
Verified Purchase
Works better than any other product
I never had a problem with excessive sweating until about a year ago. Suddenly it just started and I was ruining all my shirts from the sweat. It was embarrassing and nothing seemed to work. I tried this product and after just one use I not longer had the sweating. It is such a relief to be able to wear my favorite shirts again! I have found that I can put it on every other or every third day to manage the problem. It really works!
This product is fabulous, I wish I had heard about it years ago. It does not irritate my skin at all like other products I've tried have (and unfortunately I've tried way too many). I would recommend it to anyone who is suffering from excessive sweating, it really does work! LovelySkin Customer
Verified Purchase
I am so glad I found this amazing product.
I am 18 years old; ever since 5th grade I have had problems with excessive underarm sweating. It would get so bad that after 20 minutes of putting on a t-shirt, I would have huge sweat marks on my shirt. Despite whether or not it was cold or hot out, I always sweated. It got so bad that I avoided wearing colors to make it less noticeable. But even that didn't work, so I just wore hoodies to cover it up completely. Sometimes i would even sweat through them. I literally tried every single deodorant out there and nothing ever worked for me. I even tried a perscription deodorant and it just burned a layer of my skin off, landing me in the hospital. Ever since I have got this product, my sleeves have been completely dry. Sweating only occurs at a nomral rate now and I can happily wear t-shirts and colors without the embarassment of huge sweat stains. I highly suggest that if you have this problem, try this product. It really seems to work wonders and a little bit goes a long way. I love it. LovelySkin Customer
Verified Purchase
It Works on Sensitive Skin!!!!!!
My dermatologist recommended Hydrosal Professional after trying the prescription antiperspirant and developing a rash. I decided to order from LovelySkin since it had a great price. I was skeptical after spending money and having no result or a rash in the past but Hydrosal Professional is amazing. One week and no more damp underarms!!! I have no regrets. I have shared this great find with friends who have the same problem. I wish I knew about his years ago!! LovelySkin Customer
Verified Purchase
love it!
Seems to work great. I'm glad I tried it. LovelySkin Customer
Verified Purchase
I love this Hydrosal gel!
Excessive sweating is a total inconvenience! It was a pain for me because it controlled what clothing I could wear. I was over the moon when I found Hydrosal gel. I greatly recommend this product because it has made my life easier. I no longer have to worry about having sweat stains on my clothing throughout the day. I can finally wear what I want. The price and free shipping on www.lovelyskin.com is also great. LovelySkin Customer
Verified Purchase
So glad we tried it!
We heard about Hydrosal through our dermatologist and I found it for a good price on this website. I decided to try it, even though I was unsure what the results would be like. I bought it for my daughter who was sweating excessively during PE and other activities. She never wanted to dress out and participate because her shirts would be soaked by the end of class and she was embarrassed. The Hydrosal worked incredibly well and she has noticed a huge difference in the amount she sweats. I am so glad we tried it and would definitely recommend it! LovelySkin Customer
Verified Purchase