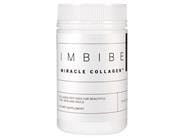 Reviews For
Imbibe Miracle Collagen
Great taste
First time user of Imbibe collagen. It has no taste which is wonderful but it is less than a month so I don't yet see benefits to hair and nails. Imbibe Miracle Collagen
I reordered the second bottle to continue using this product. I don't know if it's combination of everything I am using, but I did notice the improvement on my skin texture and firmness. So I will continue using this collagen supplement. Magic in a bottle
I freaking love this stuff. I always make sure I have a few bottles for backup because I never want to run out. Completely tasteless and dissolves in all drinks. Can be used in food, but I mix it with my liquid probiotic and warm water for my daily morning drink. My nails have never looked better, my hair is growing like crazy and feels soo much healthier, and my skin feels more plump and hydrated. Highly recommend. Especially since lovely skin has such great sales, I never pay full price. AlyshaP
Verified Purchase
Imbibe
I have been using this product for about 1 1/2 months and it seems my skin is a bit more hydrated. I am buying another bottle to continue using it so I can see if I get more results. Easy to blend with liquids and does not have a bad taste. LovelySkin Customer
Verified Purchase
WOW!!!
I put two teaspoons in my green tea every morning. No taste. Noticeable improvement in my skin, hair and nails. Definitely recommend! SusanVY
Verified Purchase
IMBIBE Collagen
This really works. I thought I would give it a try to see if it made any improvements in my skin. Well, it did! And it also made my nails stronger and my hair super shiny. My hair stylist was asking me what I was doing different because my hair was so shiny and healthy. I was trying to figure out what I was doing, and then, I remembered I had been drinking this collagen every day. I put a teaspoon in my coffee every morning and it has no taste and can't tell it's in there. I would highly recommend this to anyone that wants to have shiny hair strong nails and glowing skin. LovelySkin Customer
Verified Purchase
Collagen
I really like the Imbibe Miracle Collagen. There is absolutely no taste or after taste. I will reorder this product. LovelySkin Customer
Verified Purchase
Starting to notice some difference
I decided to try a collagen supplement due to dry skin on my legs despite everything I tried. My skin feels and looks a lot less dry now that I've been using it for almost a month. I ordered another bottle for when I run out as I've noticed a softening in the brackets by my mouth. Interested to see if it continues to help my face and skin texture with continued use. I mix a scoop into my coffee in the morning, dissolves completely and has no taste! Also, does not contain fillers which I appreciate. LovelySkin Customer
Verified Purchase