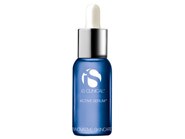 Reviews For
iS CLINICAL Active Serum
$86.00
128 Results
Definitely a must have serum!
Wonderful serum! Works so well on my sensitive skin! Definitely see the results in improved texture of my skin and it visibly reduces the wrinkles. I am in my mid 30s and I think quality skin care is very important. This serum is worth the price tag and will be repurchasing a bigger size. Use it every night! LovelySkin Customer
Verified Purchase
Must have!
I've been dealing with hormonal acne on my jawline, and this product has been helping reducing my breakouts! And Maskne is definitely a problem in these times. I put this on my jawline and chin and now I don't get maskne anymore! Holy grail product! A little goes a long way rihanna
Verified Purchase
LOVE
Love this serum! It smells amazing, feels tingly on my skin in a good way. My skin has really smoothed out and brightened up since adding this to my routine so I will definitely continue to use it. Wish it wasn't so expensive though but I guess you get what you pay for... Colourful
Verified Purchase
Amazing!
Skin is glowing! LovelySkin Customer
Verified Purchase
My skin has never looked better
This serum works wonders! My skin is glowing and my pores are basically nonexistent. I haven't had a breakout since using this serum. My skin looks younger and more hydrated. I look like I'm wearing foundation because my skin is so clear and smooth. Will definitely order again. missiub
Verified Purchase
Helped a breakout
I thought I was over breakouts at 54. No such luck, but this Active Serum, combined with the Is Clinical gel cleanser really helped. I blame stress! The combination of these products though gently dried up the pimples that unexpectedly showed up. I've recently added an eye serum and the warm honey cleanser. Really liking this line. I tried the sample bag first. LovelySkin Customer
Verified Purchase
love product but not the packaging
This product is amazing, however I wish the packaging was different. on the first day I knocked over the bottle and spilled out about a quarter of the product, which stinks because it's so pricey :(. A pump would be a much better option but still a great product Awesome
This one is a favorite, and a must for my problematic, aging, hormonal skin that breaks out from everything. I use it during the day. It really is fantastic - I like almost all IS clinical's products, but this is in the top three (along with poly vitamin serum and youth complex). LovelySkin Customer
Verified Purchase
Love It
Great product. Have seen the biggest difference in my pores. Would by again. LovelySkin Customer
Verified Purchase
love IS!
There is a reason everyone goes crazy over this stuff. this bottle is liquid GOLD!!!! it treats literally everything and its even safe to use when pregnant! Cant live without it...
...wouldnt want to (live without it) A plastic surgeon gave me a full size sample of this years back. Told me he it wasnt an *if* I'd love it, I would love it. Period. He was right. I use it 2-3x a week in the evening. I just started ordering through Lovely Skin & am so pleased TheFitChick
Verified Purchase
Best serum yet!
Must buy, I can see the difference in my skin in just one week LovelySkin Customer
Verified Purchase
Active Serum
Great product but a little strong for sensitive skin. LovelySkin Customer
Verified Purchase
The best
The best serum I've ever used. WOW! anti aging and clears skin
this serum is amazing! ive always had clear skin and then at 37 i started getting constant breakouts on my chin and lower jaw line. NOTHING HELPED except this and sunday rileys sulfar mask. Not only did this help clear my skin within 8 days but it is also really helping to soften the lines around my mouth and eyes. ive never used a serum that actual worked before until this. this serum will forever be a staple for me! LovelySkin Customer
Verified Purchase
Miracle juice
This is an outstanding serum for any skin that is troubled...rosacea, acne. Even older 50s skin like mine does well-takes care of hormonal skin issues yet does not irritate. It has a slight sting but it quickly dissipates. The only thing I'll use. LovelySkin Customer
Verified Purchase
Amazing!!
I have aging but oily skin. I have used this for 1 week and my dark age spots on my temples aren't there! It is drastically reduced pore size. I'm SO impressed! I love it. I have been a obagi or skinceuticals dedicated gal for many years...and was very happy. But this is even better. I wish it was more affordable!! LovelySkin Customer
Verified Purchase
best serum hands down
I've gone through 4-5 bottles of this and can't live without it. I can always tell a difference in my skin if I have to go without it for a few days. This does the best job of keeping my acne prone skin in line. My skin is brighter and clearer and my pores are reduced. I love the cool tingling sensation, it's refreshing without being irritating to my sensitive skin. Yes it's pricey but it's absolutely worth it. LovelySkin Customer
Verified Purchase
Love it!
The best serum i've tried. Used already a few bottles. I use it in the morning after cleansing. I can see that it helped me with fine lines. LovelySkin Customer
Verified Purchase
Changed my skin 360 for the best!
This stuff is amazing. My skin before buying this product was not the best and I had random breakouts all over my face. My skin was not happy but once I started using this serum it worked a miracle. Once you put this stuff on at night you wakeup in the morning with the most fresh face and that's the best feeling! Everyone needs this in their skincare regimen. Leannab
Verified Purchase
Did not help with acne
I purchased this after a YouTuber I follow suggested it. She has dealt with hormonal breakouts and swears by this product. I decided to go for it (despite the hefty price tag) and I am sad to say that I saw no improvement. Over the counter acne creams have worked better than this. I am sad to say that this bottle sits on my shelf nearly full just staring at me. I can't throw it away because of the hefty price tag. Just a warning, maybe think twice before purchasing this one... AWESOME!
nothing bad to say kms09809
Verified Purchase
Excellent anti-aging treatment for sensitive skin!
I apply this to my entire face and neck daily. It works on aging neck as well as overactive oily forehead area. I think it's an effective anti-aging product that also helps calm my irritation from other products and rosacea. I use this twice daily. LovelySkin Customer
Verified Purchase
Is clinical
This serum is so strong I haven't used it long to see its best results, the price is so high I'll buy another cheaper LovelySkin Customer
Verified Purchase
Wonderful serum!
Been using this for years after my aesthetician recommended this to address acne, age spots and wrinkles. Love that it doesn't break me out!! LovelySkin Customer
Verified Purchase