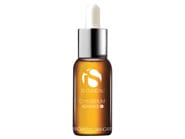 Reviews For
iS CLINICAL C-15 Serum Advance+ 1 fl oz
2 Results
High potency C serum
The serum is effective however it is difficult to absorb, as it is pretty runny solution. I have to mix with other products, so it could apply and absorb into the skin. I swim in the sun a lot, and I see my face doesn't burn out in the sun easily. It is very effective vitamin C serum. LovelySkin Customer
Verified Purchase
my favorite vitamin supplier for my skin!
Did you know vitamin C helps your skin cells to regenerate? It also protects your skin from UV sunlight. C-15 is full of vitamin C, and it is reknowned for making vitamin C in stable condition where as many ohter cosmetics includes unstable form of vitamin C, which will be damanged before it reaches to your skin cells. It's been great satisfaction, and my skin vibrants more than before! LovelySkin Customer
Verified Purchase