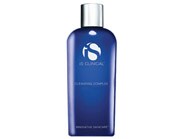 Reviews For
iS CLINICAL Cleansing Complex 6 fl oz
$44.00
205 Results
Amazingly soft skin and fantasic results!
I first tried this for iS CLINICAL Cleansing Complex back in 2013 in my Dermstore monthly beauty box and I was immediately in Love! After my first use I noticed a huge difference in my skin. It was gently exfoliated and so smooth. I began to use it regularly and now I can't live without it as part of my beauty routine. It is just that good! It has a light, delicate scent. Nothing overwhelming. It is clear and natural. Simply Amazing! I use it to keep my skin from clogging. It's perfect for that. I have acne prone areas around the chin, as I enter the age of 46. Hormones. This is my Savior. It is a very effective cleanser. I recommend it to anyone who wants the best face forward. Jaimied
Verified Purchase
Holy Grail Product
There's no cleanser that compares to the Cleansing Complex. I've been loyal to this cleanser for years--from hormonal acne days to starting retinol again days. This cleanser cleans so, so well--with zero irritation or tightness. I actually do not wet my face first--I apply directly to dry skin, then wash off. But I am never without it! LovelySkin Customer
Verified Purchase
Great cleanser
A great cleanser that removes all traces of makeup and doesn't break me out. Definitely has a scent from one of the ingredients but doesn't have any artificial fragrance so I don't mind whatever it is in there. Took a few days for my skin to adjust after using a different hydrating cleanser for so long so I'd say this is best suited for oily skin. Now my skin is pretty balanced and actually doesn't need blotting throughout the day. Also super fast shipping and great service from LovelySkin-it was my first time shopping and I'll definitely reorder! LovelySkin Customer
Verified Purchase
Love this!
I've had difficulty finding cleansers that weren't too harsh on my acne prone, dry skin- especially in the winter. This cleaner is gentle but still cleans my face well. I use this in combination with the Active Serum, and it's really helped with breakouts. LovelySkin Customer
Verified Purchase
Great cleanser!
I have typically sensitive breakout prone skin. This cleanser has really seemed to make a difference in my routine. This feels like it really cleanses, somehow keeps my breakouts in check, and really gets makeup off. LovelySkin Customer
Verified Purchase
THE only cleanser I use
I'm a Medical aesthetician and have been using and promoting (when I was with medspa that sold this) and still currently referring all my clients to this stellar cleanser. It's so light yet always does a phenomenal job getting the days dirt and makeup off without stripping my sensitive skin. Esthetician
Verified Purchase
Really good!
This is my second bottle and this cleanser is so good! Controls my acne and oil and doesn't irritate my rosacea! It's a little pricey but i will buy it again! Recommended! Clinical cleansing complex
I love this cleanser! It has cleared my face up so much and makes it feel so soft, it is a wonderful product! My Fav!
This cleanser is my favorite. Gentle and love this cleanser for everyday use. lmsarbach
Verified Purchase
Gentle and Effective
This is a nice cleanser, gentle and non-drying. However, I do think there are other cleansers available at a lower price point that work just as well. LovelySkin Customer
Verified Purchase
This feels so amazing on my skin!
My dermatologist recommended this face wash to compliment other products from the Is Clinical regiment. It makes my skin feel so much cleaner and softer... it may be in my head but I feel like the products afterwards go on better too :) Love it
Love this. Makes my skin so soft and doesn't dry it out. Does not inflame my rosacea. Love It!
I purchased this as a recommendation from a friend and have been very pleased. For some reason, I was afraid this would be drying and it isn't at all. Seems to balance my skin and leave it clean for product application. IS Clinical Cleansing WOW
This is the best pure cleansing for my skin. I love it. Gentle and really cleans my skin. This was prescribed to me by my doctor for rosacea and for breakouts. The best cleaning for sensitive skin. I would think anyone would do well with it because it is so gentle and not at all drying. A real plus. Nice & Gentle
This cleanser is salicylic acid based but does not seem harsh at all. It doesn't have an odor and leaves the skin soft and cleansed. It's a rather large bottle making it a good value for the price. As a male with "thick skin", I could use something with a higher concentration of salicylic but overall pleased with the product. Wonderful cleanser
I love this cleanser. It's gentle, yet a very effective makeup, dirt, oil remover that doesn't strip your delicate skin. I use it twice daily and it works well around your eyes without causing irritation in or around the eye. LovelySkin Customer
Verified Purchase
The Best Cleanser
I am an esthetician. I have tried many cleansers and I can say that this is the best cleanser I have ever used! It removes light makeup, exfoliates, and leaves my face really bright. It is expensive, but lasts long time so I think it is worth the money. LovelySkin Customer
Verified Purchase LovelySkin Customer
Verified Purchase
Amazing!
This is the best cleanser I have ever used. It has helped prevent breakouts and even cleared up old acne scars. It's refreshing and doesn't dry out my skin. I highly recommend this cleanser! LovelySkin Customer
Verified Purchase
Wonderful, Gentle Cleanser
I recently found out that Chrissy Tiegen uses this cleanser so I decided to try it since her skin is amazing! I have used it for about a month now and it has not caused any breakouts (my skin is very sensitive). It leaves my skin super clean without it making it feel dry or tight afterwards. I'm very pleased with this cleanser and will continue to use. LovelySkin Customer
Verified Purchase
Amazing Cleanser
I love this cleanser. My skin feels so fresh and clean after using it. I can tell my skin is clean without it feeling tight. I have fair, acne prone, combination skin. In my T-zone it gets quite oily and elsewhere it has a tendency to get dry, so I'm careful with my cleansers. I also really love the way this smells. It's not a strong smell, but something about it is very refreshing. I definitely recommend this product! Thin, hard to use
The consistency is very thin so you are always pouring more than is needed. Not okay for something this expensive. LovelySkin Customer
Verified Purchase
Is clinical cleanser
Love love this cleanser it's my favorite cleanser! It's not stripping it's hydrating! But also really exfoliates. LovelySkin Customer
Verified Purchase
Not worth the price tag
I decided to try the iS CLINICAL Cleansing Complex because I had read about it in a couple of online/blog posts and because of its high ratings. It's just okay. I didn't notice a difference in my skin after using it. I found that it does not do a good job at removing makeup and after following it with a toner, there was still a little dirt/makeup on the cotton pad which I would not expect after had just washed my face. It barely has a smell so that's pleasant. In my opinion, it's just not worth the price tag. Disappointing. LovelySkin Customer
Verified Purchase
Great Cleanser
I struggle with combo skin that can become very oily or very dried out depending on the products I use and this one made me feel very clean and kept me right in the midddle of those issues. It was recommended to me by a dermatologist and even helped to eliminate breakouts. LovelySkin Customer
Verified Purchase