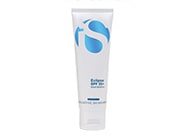 Reviews For
iS Eclipse SPF 50+ PerfecTint
6 Results
Mediocre at best
This product is lightweight and does not feel heavy. However, it does leave my face a little bit shiny. It certainly does not dry into a matte finish. There is no white cast, and the tint isn't too dark for my skin (I am Asian and fair - a lot of the tinted sunscreens out there offer a tint that is far too dark/orangey for my skin). As I do not apply foundation, it would have been nice if the tint provided some form of light coverage. There is no coverage offered by the tint in this sunscreen. LovelySkin Customer
Verified Purchase
Too greasy
The product is too greasy and it looks like you have a sweaty face. Even a face powder can hardly fix it. The good thing about it - it's 100% mineral and doesn't irritate. I think it's good to use on the beach where no one cares about greasiness of the face. But for everyday life in the city - NO LovelySkin Customer
Verified Purchase
Superior product
Have been using this product for 3 years and can't say enough good about it! Love the way it smooths on skin, love the coverage (I use beige tint). It serves as foundation for me and doesn't sink into wrinkles the way most foundations tend to do. I will keep buying this great sunscreen which was recommended by a plastic surgeon's office. LovelySkin Customer
Verified Purchase
Flaky
Very light color and flakes into white specs on my skin LovelySkin Customer
Verified Purchase
Good product. Dont buy brown tint for light skin.
I really like/ believe in IS Clinical products. However, as I never try a sample, I choose to trust last review. I went ahead purchased a brown color. Of course, it ended up I should not believed last review. Brown tint is very dark, and not suitable my light skin. I ended up to exchange it. Thanks LovelySkin allows me to use one of my 3 times yearly return. LovelySkin Customer
Verified Purchase
Mixed Review
The consistency of the new Eclipse Perfect Tint is an improvement over the old one, which I used for about ten years. It is not as greasy..... has a very nice matte finish which makes a beautiful base for makeup. I have fair skin and ordered it in the "Beige" shade thinking it would add a little color to my skin, like the old one did. It comes out of the tube a light pink and goes on your skin completely invisible. It adds no color whatsoever which was very disappointing. I will try it in the "Dark" shade when it comes in and will hope it is more like their old Perfect Tint. So, if you like a tinted sunscreen, don't be fooled by this one in "Beige". Go for the "Dark". If you are looking for something invisible with no color, you'll love it!