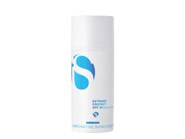 Reviews For
iS Extreme Protect SPF 30
LOVE IT!
I agree with other reviewer. It is the best sunscreen I have ever used. Doesn't break me out and I love the skin care benefits that come with it. I hope they never change this one. Pricey for sunscreen but worth it. LovelySkin Customer
Verified Purchase
BEST SUNSCREEN I HAVE EVER USED!!!!
I love this product. It doesn't make you feel or look oily or greasy. This is my go-to product for the more sunny days. I also love that it comes in a pump. LovelySkin Customer
Verified Purchase
The only SPF that works for my sensitive skin
Finally, I found an SPF product that leaves my skin looking flawless and blends in well. My skin feels hydrated without looking greasy. My father died from skin cancer, so I've been obsessed with protecting my skin. I feel like I've tried every SPF product on the market over the last 30 years. I was trying to use only physical sunblocks (zinc oxide and/or titanium dioxide), but every formula either irritated or dried my skin out. I'm very particular about what I put in and on my body and try to use clean ingredients. Although the ingredients in this product are not sourced from organic products and several are synthetically derived, the iS Extreme Protect SPF 30 is amazing. It has a decent safety rating of 3 by the EWG (Environmental Working Group). Over the last decade I was strict about using organic products or those rated 1 or 2 by the EWG, but the result was either drying or greasy irritating, pasty, or would burn my eyes. I'm so happy that I've finally found something that protects my skin while making it look and feel healthy. Protect your skin
I use this product daily to protect my face. Love it! LovelySkin Customer
Verified Purchase
iS Extreme Protect SPF 30
The best daily moisturizer and sun protection Ive ever used. Its not too pricey and it lasts a long time. I use it on my hands as well. LovelySkin Customer
Verified Purchase
Best Sunscreen
I use this for sunscreen and moisterizer. It is not greasy, doesnt leave a white film, and does not flake - great to use over morning serum. I really like this product! LovelySkin Customer
Verified Purchase
BEST SUNSCREEN!
This stuff is seriously the best - goes on a little thick at first, but quickly sink in for a smooth, unnoticeable finish. It is perfect for under makeup, my foundation always goes on perfectly. It also has a ton of other anti-aging and antioxidant benefits, so I feel like I am getting a high-end day cream and awesome sunblock in one.