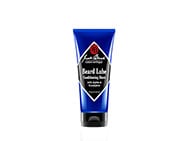 Reviews For
Jack Black Beard Lube Conditioning Shave - Tube 6 oz
$17.00
Wow!!
My husband loves this while shaving both his face, beard and head. Very moisturizing. Great quality. Beard Lube
My sons have sensitive skin & heavy beards. They love this product. LovelySkin Customer
Verified Purchase
Best Shave Ever
The first time I began applying this product to my face, I knew this shaving experience was going to be different. The product is in the form of a silky gel that spreads easily and stays put while refreshing the skin with a cooling sensation. Shaving is easier because it is a clear gel so you can see exactly where you have shaved and it doesn't make a mess like foam products. This Beard Lube does not irritate the face at all, but rather soothes and heals the damage that comes from shaving. This was by far the closest, best shave I have ever had and I can't see myself using any other product. LovelySkin Customer
LovelySkin Employee
So smooth and "nick" free
My husband loves this product! Best shave of his life with no nicks or scrapes! Leaves his skin very smooth and well hydrated. LovelySkin Customer
Verified Purchase
My husband loves this
My son recommended this product to my husband. Now my husband gets a much better shave than when he used his cheap gel or foam products. He can shave every day and his face does not get irritated. LovelySkin Customer
Verified Purchase