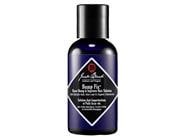 Reviews For
Jack Black Bump Fix Razor Bump & Ingrown Hair Solution
$27.00
2 Results
This product is great.
This product is great. It takes care of ingrown hairs and other skin imperfections quickly. LovelySkin Customer
Verified Purchase
It helped, but to a certain extent.
I have never dealt with ingrown hairs until I was 30 years old. I've tried quite a few products, including this one from Jack Black. It reduced my ingrown hairs a bit but then seemed to quit on me. I finished the whole bottle off with minimal results. I took before and after pictures, and you can barely tell a difference. I deal with ingrown hair on the front part of my lower to mid thigh and no where else. I'm mentioning that because my husband and I both had a bottle, and he used this for his beard area. His results were pretty good. It's February, and we just moved 3 months ago and bought our dream home, which had gorgeous masonry work and a beautiful, large in-ground pool. I am in great shape, but these ingrown hairs are ugly and embarrassing. I will buy a new product from LovelySkin, and chat to see what they think is best for me!