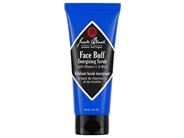 Reviews For
Jack Black - Face Buff Energizing Scrub - Tube 3 oz
$18.00
3 Results
very cooling
This face scrub has the perfect texture-lots of very small sandy particles-no lumps. It really does "buff" without scraping. It has an extreme cooling effect. The scent is strong-eucalyptus menthol aroma. There is a creamy moisturizing element to it, I feel like I need a separate face wash afterward. Great Product
I'm always trying new scrubs to get the perfect shave. Jack Black delivers another superior product. Would highly recommend you try this product. LovelySkin Customer
Verified Purchase
Great for men and women
I bought this for my husband because all other scrubs were very fruity smelling. He gets a lot of ingrown hairs and has dry skin after he shaves. He uses this once a week and he noticed that his skin doesnt peel anymore. I tried it because I ran out of my scrub and this stuff is amazing. The best way I can compare it to is when your out in the heat and you drink a nice cool cup of water. Its like that but on your face. For me this is the best scrub I have ever used. Now my husband gets mad when I use it.